What is The Woodlands
The Woodlands is a print and digital magazine focusing on reported longform nonfiction, essays, and poetry. The publication was started in the Spring of 2023 by Mira Sydow, a rising senior SNF Paideia Fellow, and Meg Gladieux, a 2023 Penn graduate and incoming first-year at the Graduate School of Education. As seasoned student journalists, we were interested in forming a creative space that reflected our ethos about writing—engaging in collaboration rather than competition, encouraging artistry and creativity rather than adhering to a strict set of guidelines, and practicing empathy and relationship-building while still telling true, compelling stories. It was also incredibly important to us for writers and artists to be compensated for their work, a significant gap in the publication space at Penn. As a result, we applied for a Sachs Grant for Arts Innovation to make this desire a reality.
Beyond the magazine, The Woodlands represents a community of creative people at Penn, both those who are interested in writing, designing, and contributing to the publication, but also those who are readers or supportive of the project. When we launched the first issue, we hosted a launch event that brought together creative mediums at Penn, including screen printing, printmaking using a letterpress, and music from a student jazz band, Combo 4. We held it at St. Mary's Church, in a multipurpose space that is used as a daycare center during the week. We danced, talked, read, and connected Penn creatives that otherwise might not have been in the same room. That kind of community celebration of the magazine is only the start of the types of community events that we're hoping will come together around the reported and creative content that The Woodlands will produce in its future issues.
The Woodlands and Dialogue
The Woodlands came from a desire to improve upon past experiences both with student-led and other professional publications. We found that the hierarchical, quick-turnaround structure of many journalistic publications can prevent dialogue between editors and writers that ultimately cut off the exchange between the finished story and the source material. Every step of our editorial process emphasized constant dialogue with our writers and sources in the development of our print product. After the writing process, we also engaged in constant dialogue with our designers, Joanna and Tyler, to put together an original print product.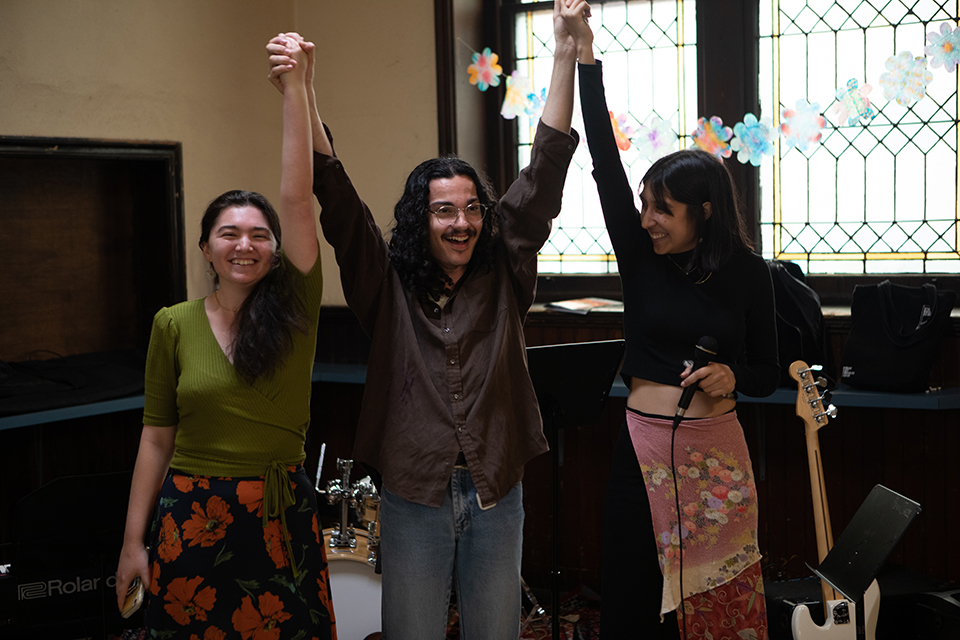 Thematically, dialogue is the backbone of The Woodlands content. Our inaugural issue was themed around the dichotomy In/Out and its subversion Out/In with the idea of highlighting nonfiction writing as a constant conversation between the inner and outer world, either translating internal thoughts and dialogue to one's environment, or taking something from the outside world and connecting it to the internal experience of the writer. Self-reflection is always a part of good dialogue and good nonfiction writing, and we like having some purely creative pieces in our magazine, even if those pieces aren't the main type of writing The Woodlands emphasizes.
The bigger way The Woodlands is about dialogue is in the reported pieces that make up the bulk of what we publish, which is about dialogue between writer and subject, or more largely, writer and community. Both of us each write more traditional longform feature-length reported pieces, Mira on a student tattoo artist, Meg on the underground DIY music scene, which represent dialogue between sources, the people we interview, community and the things we observe as writers, and our own internal experiences of that environment.
It's not enough sometimes to simply encourage dialogue, sometimes we need to change the way we engage in dialogue to be more casual, more open, more trusting, etc. The type of writing and reporting that we're interested in treats sources and source material not as pure sources of information, but something that can change the perspective of the writer and guides the narrative that the story tells. Reporting is a constant act of dialogue with the source, even after the formal part of the interviewing or reporting has concluded.
The Woodlands, Our Interests, and the SNF Paideia Program
One of the reasons why we thought this was important to do now, while we're in college surrounded by so many opportunities, is because we didn't see many options to do this kind of writing professionally. The Woodlands carves out a new area of professional journalism, as well as supports principles that are important in all of our majors and potential career paths. Meg majored in Cognitive Science and French, and Mira studies English and Urban Studies. The principles that underlie all of these fields include communication, community care, collaboration, and transparency.
The Woodlands' ethos also intrinsically connects with the pillars of the SNF Paideia Program: wellness, service, citizenship, and dialogue. We first embarked on this project as a form of self and community care. In the environment of professional journalism, we were overworked, underpaid, spread too thin, and not telling the stories that we cared about. Furthermore, we didn't feel like our work had an impact on community wellness—we were writing to meet a quota, rather than to make a difference. The Woodlands quickly became a forum for community activism by publishing creative work that encourages dialogue about tough community issues, like Gigi's poetry and Alyssa's art about the UC Townhomes. The publication also enforced wellness by paying all contributors for their work, encouraging open communication and flexible deadlines, and approaching each piece and collaboration differently, rather than through the same narrow editorial standards.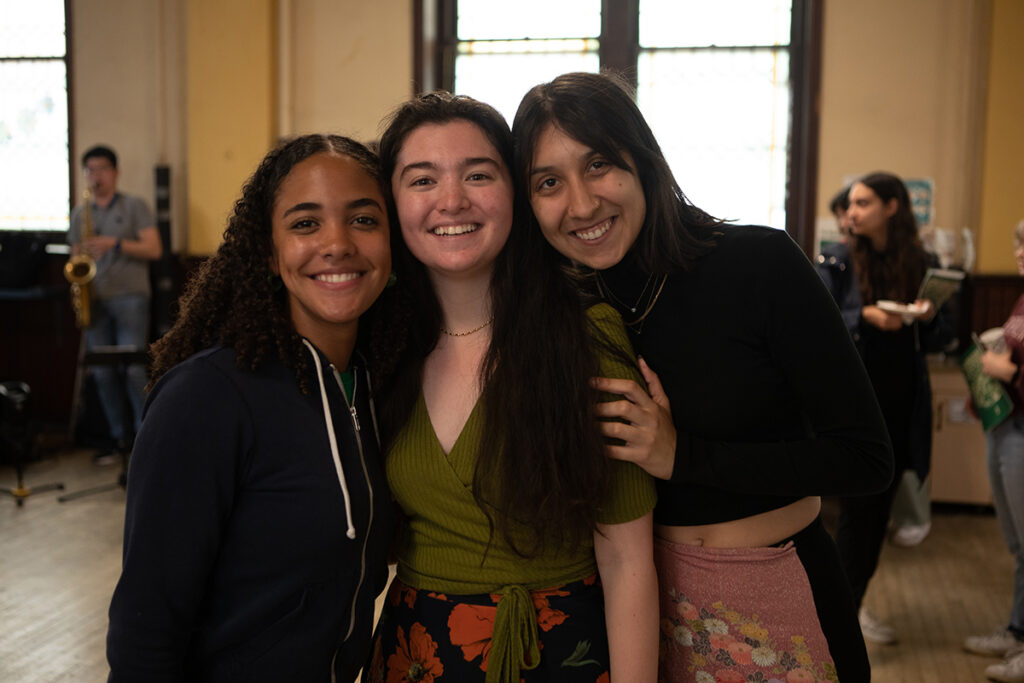 Looking Ahead
This fall, we'll be working on our second issue. Early in the semester, we'll start looking for pitches and submissions—something we were more limited in with our first issue timeline was our ability to give assignments, but we're excited to see some people pitch us stories and do the reporting on them specifically for The Woodlands with our second issue. We're also hoping to continue paying our contributors, and that has us looking into different models of funding—it's a lot harder than you think to offer compensation for creative work, especially with limits on fund distribution within the University. The magazine is ultimately very collaborative not just among our contributors, but in using lots of resources from across the University for funding and support—that includes largely the Kelly Writers House and Sachs Program for Arts Innovation, but also branching out to non-arts-specific grants and funders within the University to support the project. We also used resources like Common Press and screenprinting through the School of Design to support our launch. That collaboration is something we'll only continue to expand as we envision the future of The Woodlands.
Another one of our main focuses this fall will be training a small group of editorial staff with a variety of expertise and interests to take over for us beginning in the spring—we ultimately started this to fill a gap in student publications at Penn, and that means making sure that it has a solid foundation to continue long after we leave Penn. We're excited to bring on people with an interest in reported writing and editing, design, and overall publication management not only to learn from us, but to bring their own creativity and curiosity to The Woodlands and continue shaping the publication and the community surrounding it.
You can read a digitized issue copy of The Woodlands Magazine issue no. 1 here and see our website here.