Our work at DumoLab, headed by the incredible Dr. Laia Mogas-Soldevila and housed in the Department of Architecture at Weitzman, is endless experimentation in pursuit of biomaterial-based solutions for architecture and design. Our paper on cell-free, biologically active architectural structures was published in the Frontiers Journal for Bioengineering and Biotechnology in March. Some of that work came to fruition in SENSBIOM 2, an interactive biomaterial installation created in collaboration with Bratislava-based crafting plastics! studio, which we presented at 2023 Milan Design Week in April.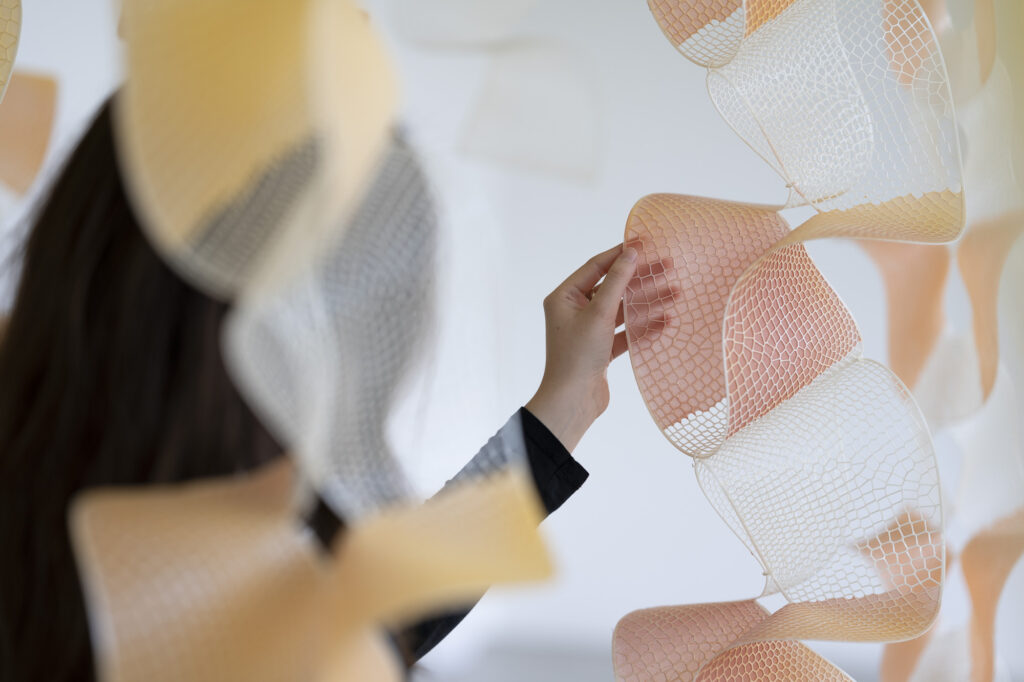 The SENSBIOM (Senseable Material for Healthier Habitats) project envisions a world in which biomaterials can relay information about the environment to humans – crucial information that is invisible to us, such as the presence of harmful pollutants. SENSBIOM 2 pays mind to the particular venue of Milan by focusing on the dangers posed by UV radiation. Ribbons of biopolymer lattices cast with plant-based material blends change color in accordance with UV exposure, notifying audiences of potentially unsafe conditions in real time. Our exploration of biochemically augmented, environmentally active biomaterials seeks to understand how matter can map relationships between humans and the surrounding environment.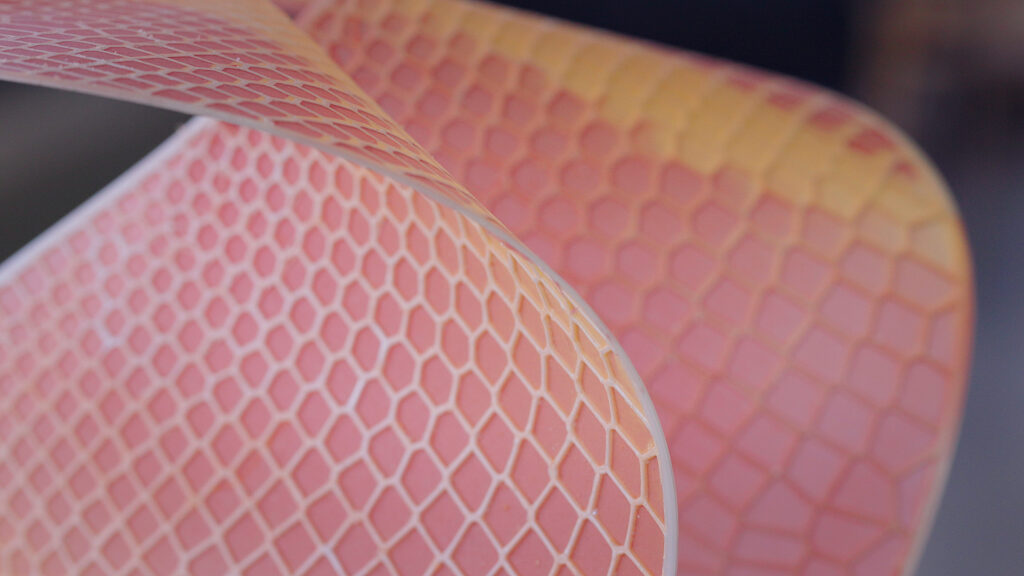 The SNF Paideia Dialogue Fund enabled me to travel to Milan, alongside my friend and colleague Shivani Chawla (E '25), to publicly introduce our newest research. We met up with our Slovakian team and slowly assembled the installation at Alcova, an abandoned slaughterhouse-turned-project-space in the heart of the city. Designers in all parts of the venue transformed the aging industrial space into a beacon of creativity and innovation. As a budding designer, the environment was like a dream despite the long days. Throughout the week, we formed relationships with other studios helping to pioneer green design, and I was introduced into that network of innovators.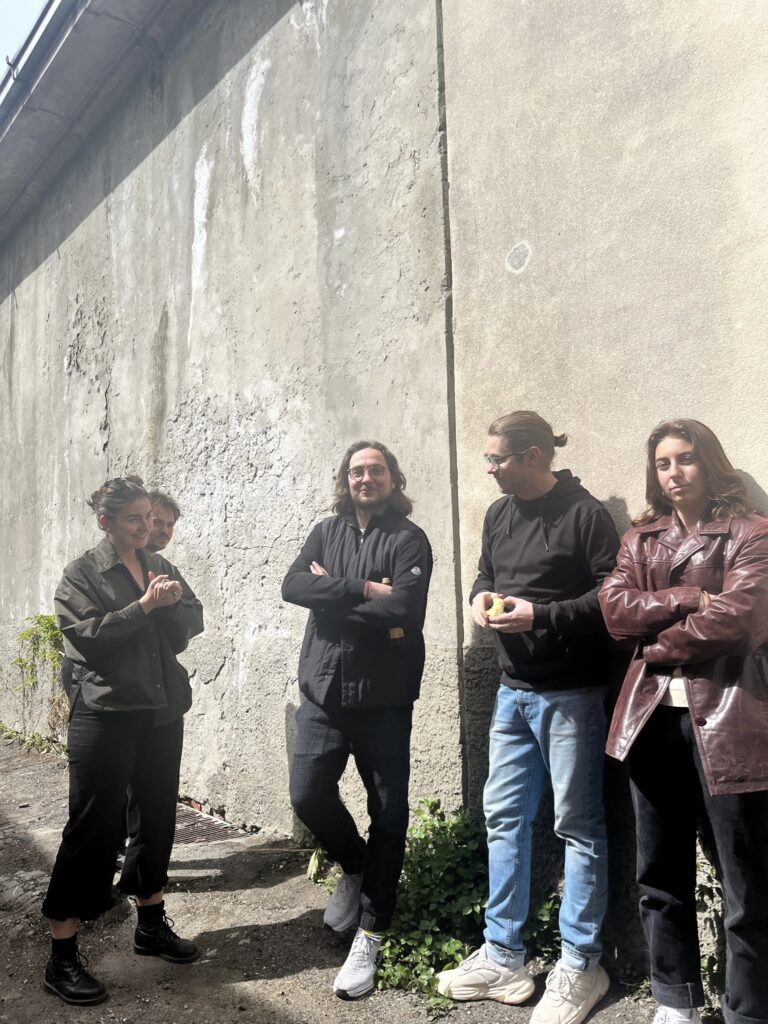 Having this opportunity to see inside the industry and gain new perspectives on the design world beyond the University only further confirmed my commitment to the field.
From open to close we spent each day presenting to an incredibly diverse group of visitors – from industry professionals to journalists to members of the general public, spreading awareness about interactive biomaterial development and how it can be used to bridge aspects of the environment with human knowledge. Some were near-experts on this topic, whereas others had never heard of such work. Ranging language barriers also played a role in visitor interactions. It was an incredibly interesting experience to present in this type of environment because there was a constant need to read the audience and adjust to meet their needs, whether it was speaking slower, using less technical/specific language, or providing more or less information about the project – all with the goal of enabling dialogue between me and the visitor, as well as between the visitor and the installation itself. This learning experience pushed me to approach people differently and meet them in a place that affords the most fruitful communication possible. If people didn't understand how and why our work was important, so much of it would be lost, and it wouldn't be more than a nice thing to look at. We were able to create connections with people to encourage the use of this new technology in ways that will help the everyday consumer in the future and give us a better understanding of nature.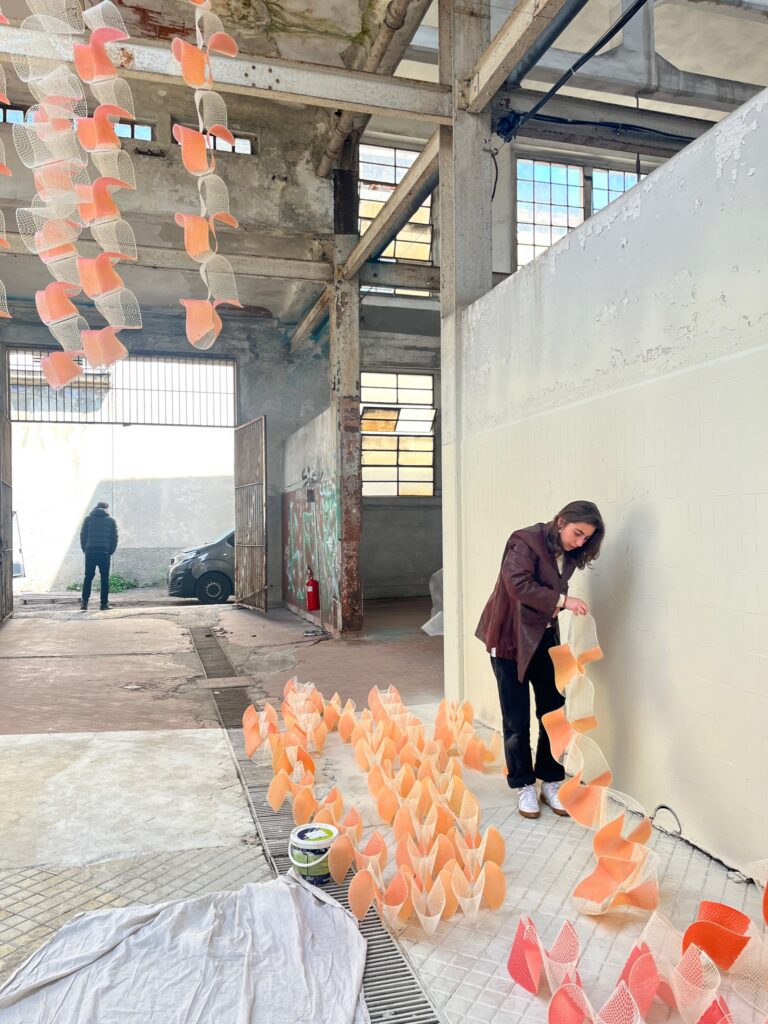 From a career perspective, Milan Design Week was genuinely one of the most important and impactful experiences I've had thus far. I was given the opportunity to be completely immersed in the design world, live with designers, and see it all from the inside by presenting work that I spent countless hours preparing and researching over the course of a year. Our work is far from over, and we are still pushing the envelope in the worlds of both interactive and non-interactive biomaterials that can change our understanding of nature and Earth's resources. This is just the beginning of what we can do, and I look forward to everything we will accomplish in the future. I could not be more thankful for my involvement in Dumolab, my teams at Penn and in Slovakia, and the opportunity to show the work through SNF Paideia's generous financial support.
Project team: Vlasta Kubušová, Laia Mogas-Soldevila, Shivani Chawla, Abby Weinstein, Shuyao Geng, Youyang Song, Martina Bajteková, Soňa Otiepková, Lukáš Gál, Miroslav Král.
Light Installation: Alexander Kupko
Imagery: Petra Hurai, Adam Sakovy, Andrej & Andrej