New images of "doing good" have been generated and circulated widely the past few months. For example, never before have we seen protestors wearing masks when marching to minimize the spread of a highly contagious virus. One such image was of healthcare workers from the University of Pennsylvania Health System and the Children's Hospital of Philadelphia gathered at the Historic Franklin Field in their PPE. They knelt for 8.5 minutes with signs to show their support of the BLM protests. They protected their patients' health by social distancing from the larger Philadelphia protest, yet, they did not let the opportunity to speak-out pass them by. Simultaneously holding the physical health of our city and nation and the fabric of social conscious as a priority, they acted with deep goodness on both fronts.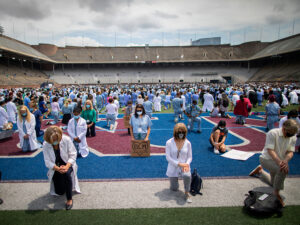 What does it mean to do good? The word "good" means so many different things, moral imperatives to economic benefits to a philosophical concept, an idealized state "the good." We often talk about "finding your truth"?  What about defining "your good"?  What would that look like in your life and how specifically would that manifest itself in your life's purpose?
It is a question without easy answers, but it is, according to Franklin, worth asking, and I would posit re asking throughout your life.  One of the great benefits of the University of Pennsylvania's place in the middle of Philadelphia is that on a regular basis you are confronted with the urgency of Franklin's question. Philadelphia is the poorest of the nation's ten largest cities and witnesses social and economic inequity. What good might you do in the world?