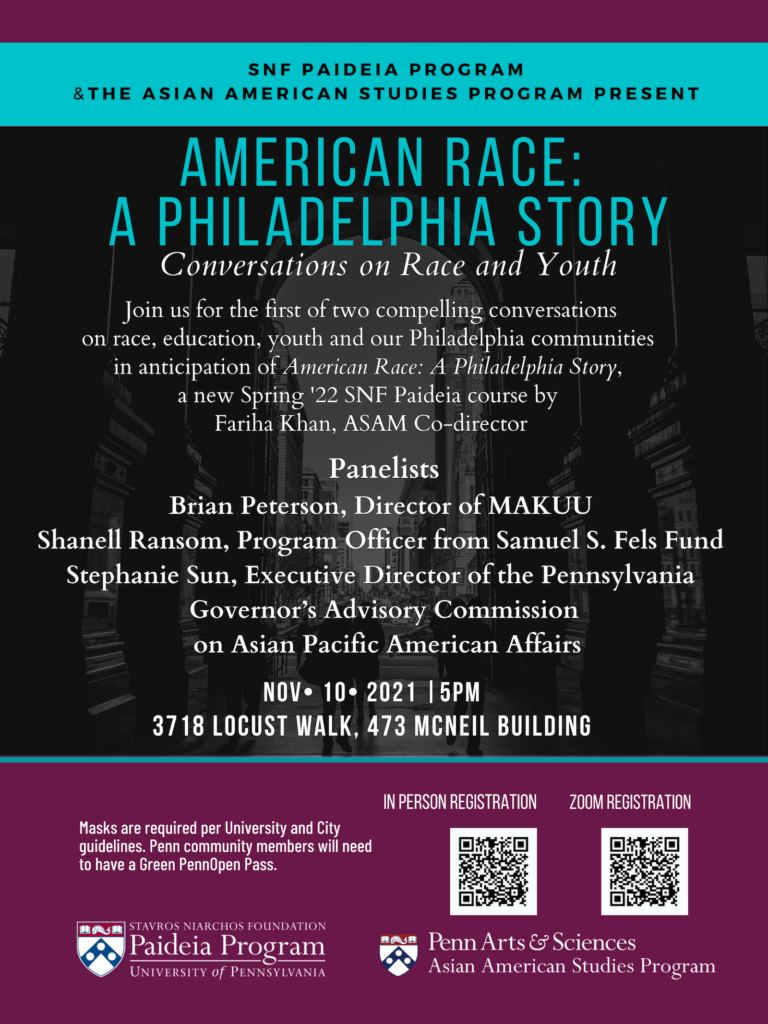 Join us for two compelling conversations on race, youth, and our Philadelphia communities in anticipation of American Race: A Philadelphia Story* with:
Brian Peterson, Director of MAKUU
Shanell Ransom, Program Officer from Samuel S. Fels Fund
Stephanie Sun, Executive Director of the Pennsylvania Governor's Advisory Commission on Asian Pacific American Affairs. 
*American Race: A Philadelphia Story, is a new Spring 22 SNF Paideia course. Students will engage with the study of race through Africana Studies, Asian American Studies, Sociology, Urban Studies and through Latin American & Latinx Studies. Readings and methodologies will introduce students to critical issues in education, in literature, in sociology, and with methods in oral history, archival work, and ethnography.
Meet the panelists here:
Brian Peterson is a three-time graduate of the University of Pennsylvania – first from the School of Engineering and Applied Sciences, and later earning his master's and a doctorate from the Graduate School of Education. Presently he teaches two courses: 'People of African Descent at the University of Pennsylvania'(AFRC) and 'Inequity and Empowerment: Urban Financial Literacy'(URBS). He also serves as a pre-major advisor. He is the proud father of five children (Nia, Jalen, Nicholas, Myles, and Quincy), four books (including Higher Learning: Maximizing Your College Experience), and one academic and cultural enrichment program, Asé Academy.
Shanell Ransom joined the Fels Fund in 2015 as an office manager then grants and operations manager and now serves as a Program Officer for the Social, Racial & Economic Justice portfolio. Highlights from her work include: streamlining the application process and eliminating written grant reports, moving the grant application and grants management system online, and redesigning the website. Beyond improving the efficiency of systems within the organization, she is a critical voice in the work towards equity and the fight for justice. She also serves on the steering committee for the Philadelphia Chapter of Emerging Practitioners in Philanthropy and the Philadelphia Black Giving Circle. She also serves on the board for Smith Memorial Playground & Playhouse and the Henrietta Tower Wurts Memorial fund.
Stephanie Sun is a journalist, she was appointed the Executive Director of the Pennsylvania Governor's Advisory Commission on Asian Pacific American Affairs (GACAPAA) in June 2020. She had been serving as a Commissioner on GACAPAA beginning in April 2018. Prior to joining the Office of the Governor Tom Wolf, Sun served as the Associate Director of Partnerships, Philly Counts, for the City of Philadelphia, responsible for developing engagement strategies with diverse communities to promote participation in the 2020 U.S. Census. In 2020, she was also assigned to work on COVID-19 and the election.