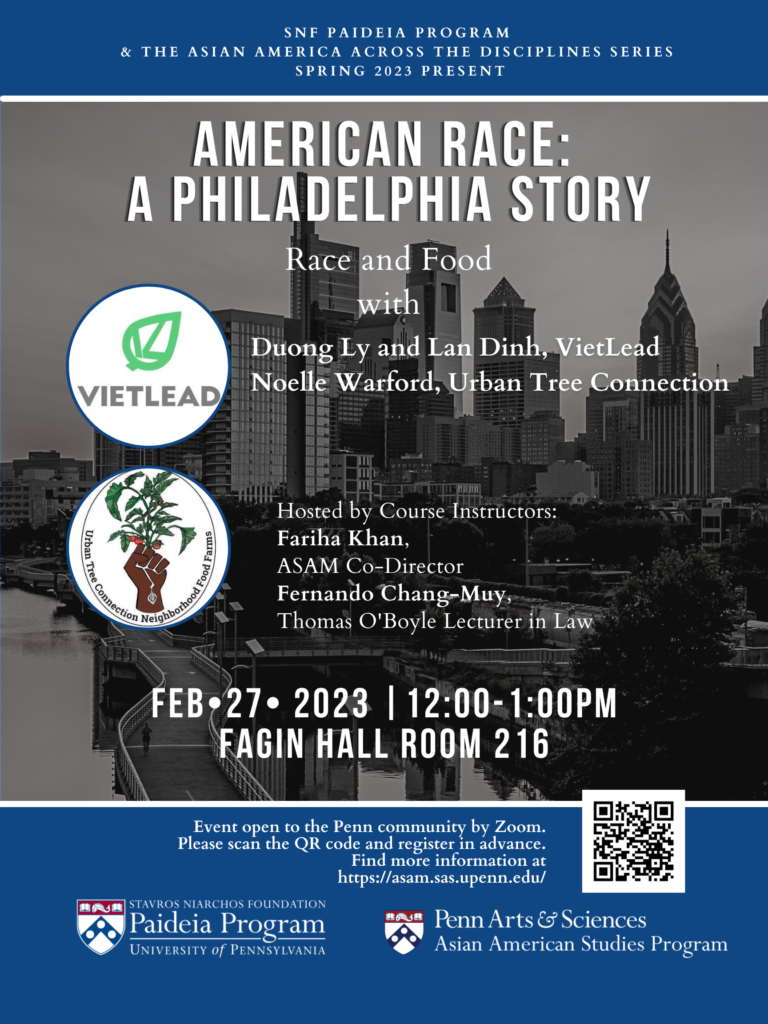 SNF Paideia Program & the Asian America Across the Disciplines Series Spring 2023 present: American Race: A Philadelphia Story – Race and Food with Noelle Warford, Urban Tree Connection and Duong Ly and Lan Dinh, VietLead.
Noelle Warford is the Executive Director of Urban Tree Connection, a grassroots non-profit in West Philadelphia that focuses on building a community led food system with its neighbors.
Duong Ly is the Operations Director of VietLead and a 2015 Penn graduate, earning a Bachelor's Degree in Sociology with a concentration on Structural Opportunities and Inequality, and a minor in Asian American Studies. Currently, Dương oversees year-long programs that work with over 120 high school students each year, most of them low to no income, and from immigrant/refugee backgrounds in Philly.
Lan Dinh is the Co-Executive Director and Farm & Food Sovereignty Projects Director for VietLead. Lan has over eight years of experience teaching healthy cooking, nutrition, gardening, and food justice to youth, adults, and communities. She received her Bachelor's Degree in Health and Societies with a concentration in International Health & Nutrition from the University of Pennsylvania Philadelphia, PA in 2011 and a Certificate in Ecological Horticulture from the UCSC Center for Agroecology & Sustainable Food Systems in October of 2013.
The event will be open to the Penn community by Zoom.