Located in the Brooklyn Navy Yard, Terreform ONE is a non-profit architecture and design research group utilizing innovative technology and design aimed at shaping a socio-ecological future. Their motto, "design against extinction," clearly articulates their innovative use of bio-technology to increase biodiversity. SNF Paideia Fellow Abigail (Abby) Weinstein, class of 2025, in the Weitzman School of Design, College of Arts and Sciences, is spending her summer interning for Terreform ONE. "It's pretty exciting getting to work with new biomaterials, thinking about new uses for some everyday materials, thinking about how different species live – how can we design something that both captures the aesthetic that we are looking for and is also hospitable to them? how do we create something that is not interrupting the life at the site and instead encourages it to thrive?" The internship, funded by the SNF Paideia program, is providing Abby with studio experience, outside of the academic environment, to explore her professional interests in a space that is involved with cutting-edge sustainable design.
WORKING WITH CLIENTS THAT DON'T HAVE A VOICE
The work at Terreform ONE is defined as multi-species design. Their clients range from the businesses that commission the work to species that are on the edge of extinction such as the monarch butterfly. It is important to design spaces to meet the needs of these species because a healthy ecosystem requires diversity to flourish. Mitchell Joachim, co-founder of Terreform ONE explained during the Biodesign Challenge Summit this summer that biodiversity is a more pressing issue than climate change. In 2022, The United Nations signed the Kunming-Montreal Global Biodiversity Framework, a historic agreement that sets goals and concrete measures to stop and reverse the loss of nature by 2050. All the measures in the agreement must be implemented before 2030. This critical work requires research, design thinking, and the ability to listen to clients that don't have a voice.
A MULTI-NARRATIVE APPROACH TOWARDS AN ECOLOGICAL FUTURE
There are many different narratives of what an ecological future will look like. Living architecture is one of these narratives. Abby shared that one of the projects she is most excited about working on at Terreform One is Engineered Living Materials (ELM). ELM is based on the idea that structures suitable for human habitation can be engineered out of living materials, making them conducive to other species while minimizing adverse ecological effects. "We are working to engineer willow trees using grafting techniques, manipulating the growth of the willows so that they essentially grow into each other to form a living, woven structure." The result will be a pavilion or 'all-natural pergola' with habitats and planters encouraging more biodiversity in the environment. Mitchell Joachim explained, "It is a multi-tiered structure that cares for avian species, insects, squirrels, and all our friends on the outside of our building. It starts with scaffolding and multi-species facades. It then gets populated, we fit those scaffolding with willows from farms, and after a year or two we remove the scaffolding, reuse it elsewhere and we've got a multi-species system that's held together by alive structures." One of Abby's tasks on the project was to develop a more weather-resistant coating for the fiber holding the structure together. "If we want this structure to last a minimum of 15 years – the length of time for the trees to establish their growth – we can't just leave raw fibers out in the elements." Using knowledge Abby had gained from working at Penn's Dumolab Research, she spent time researching and reading papers, as well as running tests on different materials to find the best solution.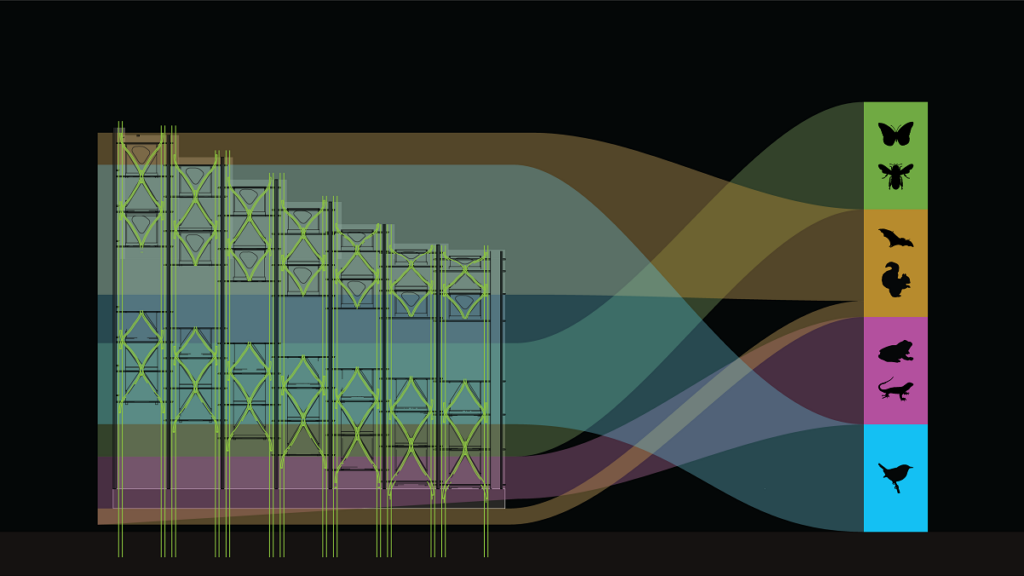 NOT YOUR TYPICAL INTERNSHIP EXPERIENCE
Abby's day-to-day experience at Terreform ONE varies greatly. Her day may involve 3D-modeling habitat inserts used in multi-species designs, and other days doing more hands-on work. The studio is currently located in a space called Newlab, which is located within a larger innovation hub. She reflects, "Being in that space is very exciting. Newlab hosts conferences and events. It has enabled me to interact with people outside Terreform and hear what they are doing – it allows me to meet more people and feel like I'm in a broader space where innovation is happening. I know a lot of people will work from home part of the week, but I rarely do that because I really like going in and being part of the space." Abby plans to go into sustainable design, and this internship is relevant to what she wants to pursue professionally. It is also a non-profit and operates differently than a typical architecture studio. It's also outside of academia and is very different than the Dumolab Abby works for at Penn. "I don't want to go into research after I graduate, so it was very important to me to be able to do something like this to get a sense of the world outside. It's helping me think about what I want – and what I might not want – for future career endeavors."
DIALOGUE WITH DIFFERENT SPECIES
As an SNF Paideia Fellow, Abby approaches the internship through a lens of dialogue. "In terms of how it relates to SNF Paideia, we are forming a dialogue with our clients, but because our clients are the birds, the crickets, and other species of NY, we get to think about having a conversation with a client in a much different way." The final site of the project Abby is working on will be in upstate New York, close to the Storm King Sculpture Garden. This is just the beginning of Abby's ventures into designing for a more sustainable future.