As a first-generation low-income student, studying abroad was always a moon shot for me. But with SNF Paideia's funding I was able to make it happen and that has broadened my perspective in so many ways.
We spoke with Lynn after her return to the states to hear about how the experience relates to the SNF Paideia Fellows Program and her academic interests at Penn.
Gender, STEM, and Resilience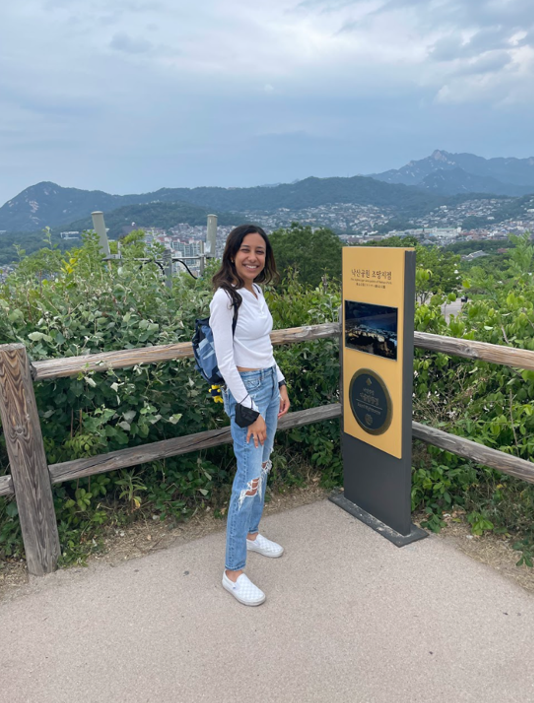 The work Lynn did for the "Climate Risk Management in the Province of Leyte" included a gender resilience component. Through her research, Lynn learned that in the Filipino culture women oversee the financial needs of the household. It made sense to put women in leadership roles to help budget for the island itself. As a daughter of immigrants from Morocco who was born and raised in Philadelphia, Lynn was given the opportunity in high school to participate in the Women In Natural Sciences (WINS) summer science enrichment program at the Academy of Natural Sciences serving young women from underrepresented communities and households facing financial limitations within the Philadelphia School District. Through sponsorship of the academy, Lynn was able to participate in various activities that encouraged females to pursue STEM fields. "Going into college, I knew I was interested in political science but I also had a love for natural sciences and environmental science and I wanted to integrate that into my college experience. I've realized there is an intersectionality between political science and natural science which is environmental sustainability. And ensuring different communities are environmentally prepared for climate change is one way of using my knowledge to serve others." JHSustain, the organization Lynn worked for, is majority women led. Lynn reflected, "it was inspiring and motivating to be working with women trailblazing in this space. International development is such a niche sector that not a lot of people go into it. Being able to intern at a place that is trying to make things happen was important to me."
Dialogue in Different Forms
If the SNF Paideia Fellows Program were a musical, "dialogue across difference" would be one of its leitmotifs. As a Fellow, Lynn has received training on how to hold difficult conversations across many kinds of differences. But what happens when two individuals don't share the same language and robust verbal dialogue isn't possible? With a very rudimentary understanding of Korean, Lynn was willing to move beyond linguistic barriers and find ways of connecting with people without relying on verbal exchange.
Aside from the climate risk mitigation work Lynn performed during the internship, she took the opportunity to volunteer at the Samteo Social Welfare Center where she helped teach kids English through simple conversation and games. Lynn was paired with a young Korean girl named Noel. While neither of them was fluent in each other's language, the two were able to connect through pictures and games. "Suddenly, an 8-year-old girl dressed in a bright pink poofy tutu with a pink pineapple shirt ran over to me, waved, and sat down. We instantly bonded over one thing: cats." Over the course of the day, Lynn and Noel formed a bond that was mutual and based on shared laughs and a fondness for animals. "As I got up to join the rest of the departing interns, Noel ran up to me, gave me a hug, and said 'I like you!' That one moment has shown me how mentorship transcends a language barrier or familiarity. It has enhanced my view on bridging differences through similarity and increasing connection through shared interests." Lynn experienced a power of friendship and kindness that goes beyond sharing the same language.
Small Acts Can Have a Big Impact
One overarching value of Lynn's upbringing was forwarding humanity through good deeds and good acts. This value fuels her study of political science, she explained. However, experiencing the power of small acts of kindness while in an unfamiliar place had a profound impact on her. When visiting a small restaurant in search of "냉면" (naengmyeon), or cold noodles, Lynn was served by an elderly Korean woman who patiently helped Lynn place her order. "The elderly woman would come by and check in on me through gestures and even a translating app I had on hand. She told me about how not many foreigners eat at her restaurant and how this dish has been passed on through generations of her family. She was able to share some of her culture and family with me through this dish, despite my inability to effectively communicate with her." This exchange has stayed with Lynn as she reflected in a recent blog post she wrote, "I will always feel a sense of gratitude towards that woman for her kindness in sharing her story through food and being patient with me as I tried to order." Spending time with a community that is not her own, where she was the "outsider", and yet to be treated with such warmth and support illustrated to Lynn the lasting impact of small acts of generosity. She hopes to integrate these lessons in her ongoing personal life and professional pursuits. "This experience compels me to want to be in a sector that can help or make someone's day a bit better. My interactions with others both in Korea and in Philly have been so warming that I want to perpetuate that forward."