Dr. Lia Howard, Director of Wellness and Student Advisor for the Program reflected, "I hoped that the retreat would give students an opportunity to gather socially at an off-campus location in the city to get to know each other better. Sometimes a new setting frees us up a bit from classroom norms and allows for different types of connections to be made." The students were guided through two very different exhibits by the museum staff and encouraged to answer written prompts about the material before dialoging about the exhibition with their peers.
"truth*" with a lower-case "t"
The exhibition space was organized into two distinct shows. On the lower level, "truth*" was a didactic reflection on how the word "is defined, by whom and for what purpose." Thomas Kyong, a senior from Las Vegas studying data science recalled, "The first thing the guide told us was truth is in quotes and not capitalized, which I thought was such a great way to start the conversation and the dialogue on what truth is. Truth is such an ambiguous concept and is defined differently by individuals and institutions." The prompts provided to the fellows asked them to reflect on the source of their own truths as well as the truths that bind one of their self-identified communities together.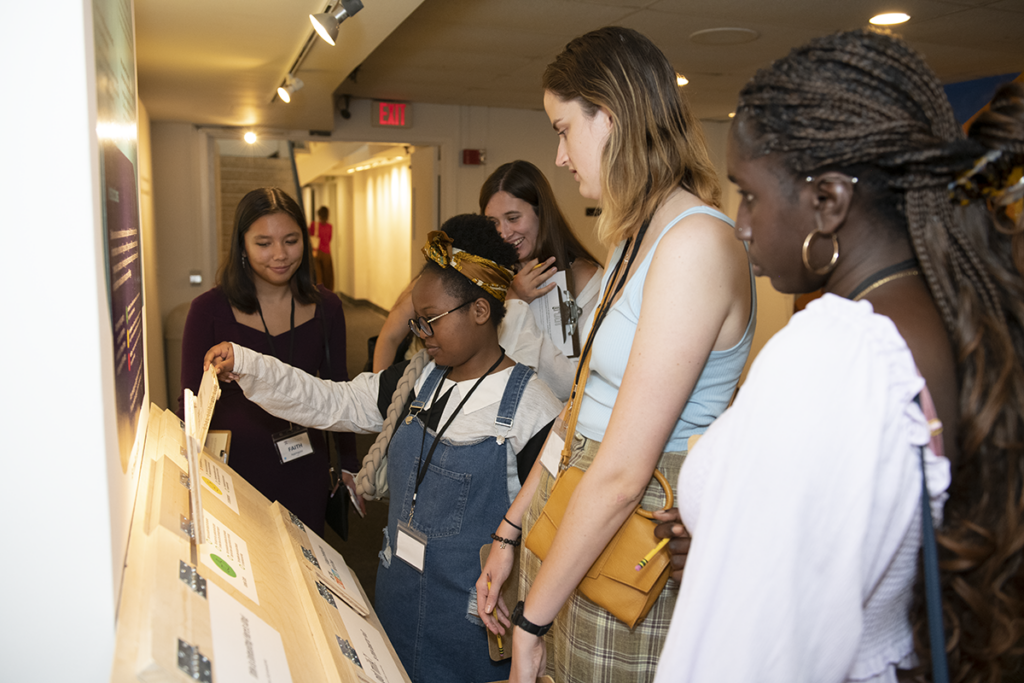 Different Experiences and Concepts of "Home"
On a separate floor, "This is My Home" featured work by five artists (Sean Lugo, Nsudayka Nzinga, Ellen Hanauer, Hagudeza Rullan-Fantauzzi, and Ana Mosquera) who were invited to "share their personal histories, experiences, and hopes for the future in their own site-specific installations." Each artist had approximately 80 square feet to create an immersive experience, the results of which touched on a wide range of issues including history and memory, technology, immigration, and homelessness. Maeve Gonter, a nursing student from Middleton, Wisconsin shared "this exhibition gave me a deeper appreciation for the home I have now, both at Penn and in my hometown and caused me to reflect on how different my homes can look. It also made me extremely aware that often "home" doesn't have to be a physical space but more of a feeling."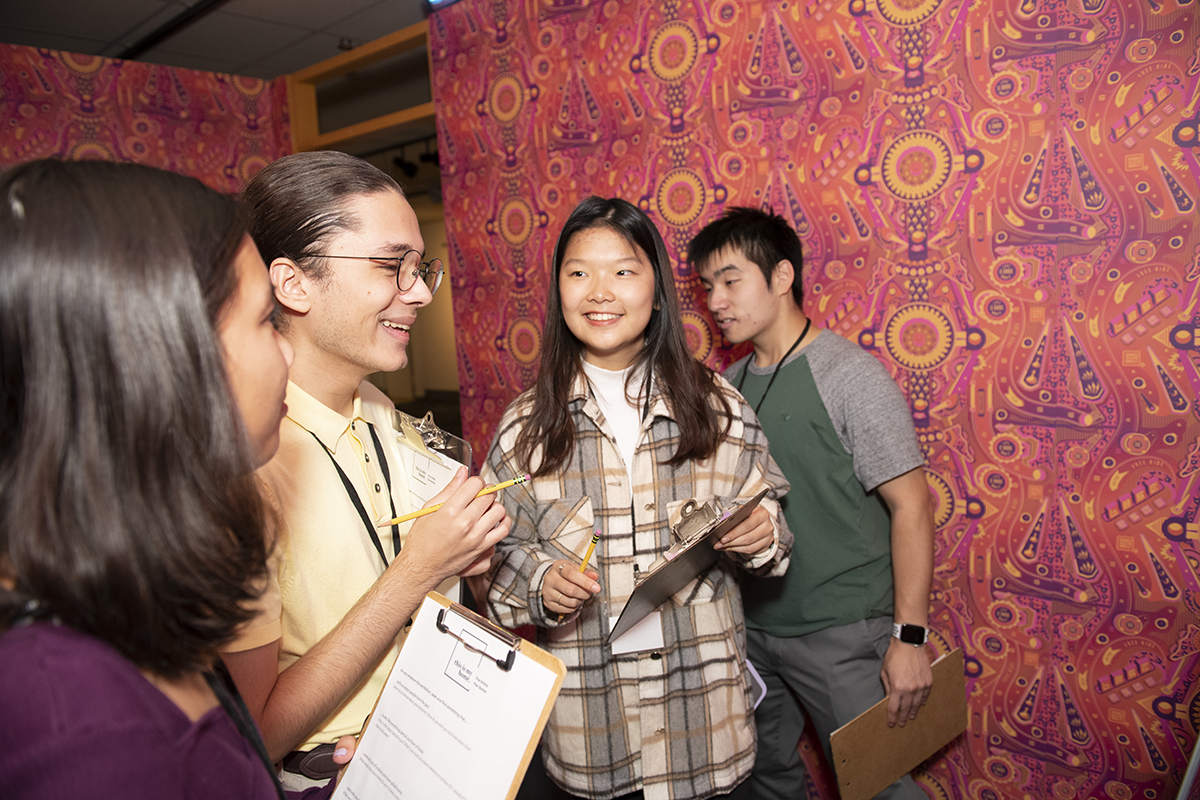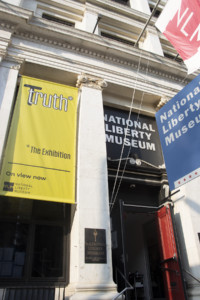 Connecting National Liberty Museum Exhibitions to Course Work
Relating the content of "This is My Home" to the fellows' required coursework, Dr. Howard commented, "One of the things about the "home" exhibit that I found in line with our teaching pedagogy in the pro seminars is that it invited both intellectual humility and a dialogic mindset.  Each of the pieces was an individual artists' interpretation of home and there was wide variety in terms of what each was expressing through their piece.  Students were able to interact (or dialogue) with each as they were able to enter each "home".  I discussed with a small group of fellows how one dwelling made them feel warm and welcomed while another deeply saddened by the tragedy depicted while, yet another brought curiosity as was filled with pictures of an immigrant family making a new home in a new place. All this to say the differences in how the artists depicted one word, "home", pointed to the wide variety of meanings and nuances we attach to the words we use.  It invited intellectual humility and allowed us to look and "listen" to these pieces to better understand this one word and imagine how we might artistically depict what "home" means to us."
Integrating Retreat Experience with Campus Life
Reminiscing back on how the retreat integrates with her experience at Penn, Sarah Asfari, C'24, commented, "Being an SNF Paideia fellow has given me a homebase at Penn, which can feel like a very large and busy space. Having a small group of classmates that I regularly interact with gives me a sense of community in my Penn experience. The dialogue-based space allotted by the SNF Paideia Program has given me the time to express myself in ways that are not possible in other spaces at Penn."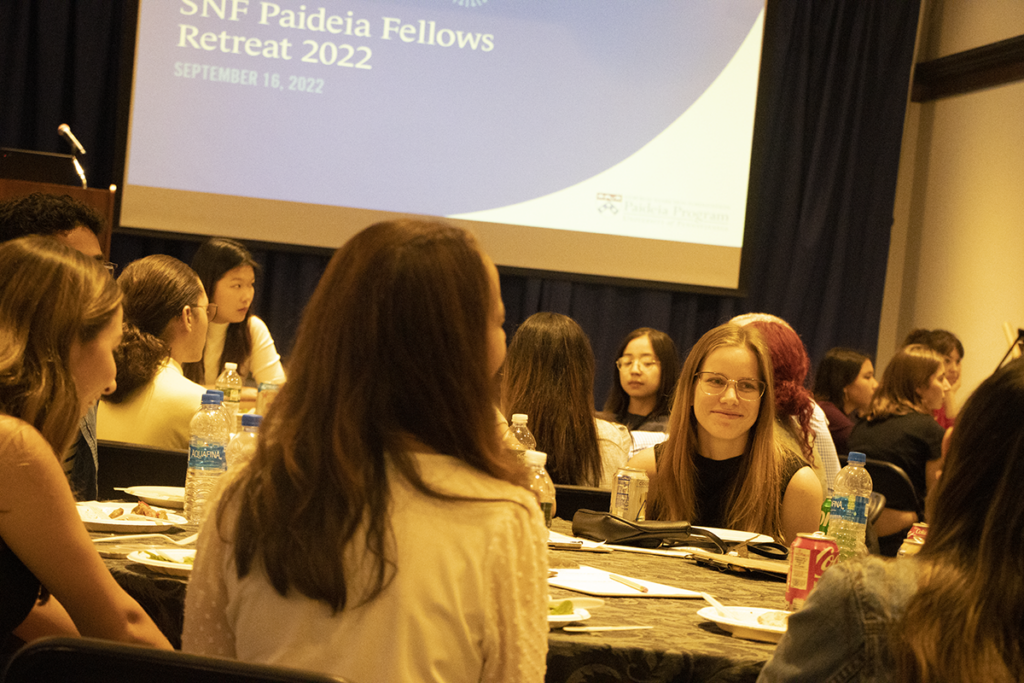 In the post-tour dialogue, fellows from more senior cohorts worked hard to include the newer students in conversations. The connections and sense of community formed will carry them through the academic year. As Maeve shared, "The community that Paideia has given me helps support me and gives me confidence through their vulnerability and kindness." This sense of belonging within the fellows program is deliberate and designed with intention.