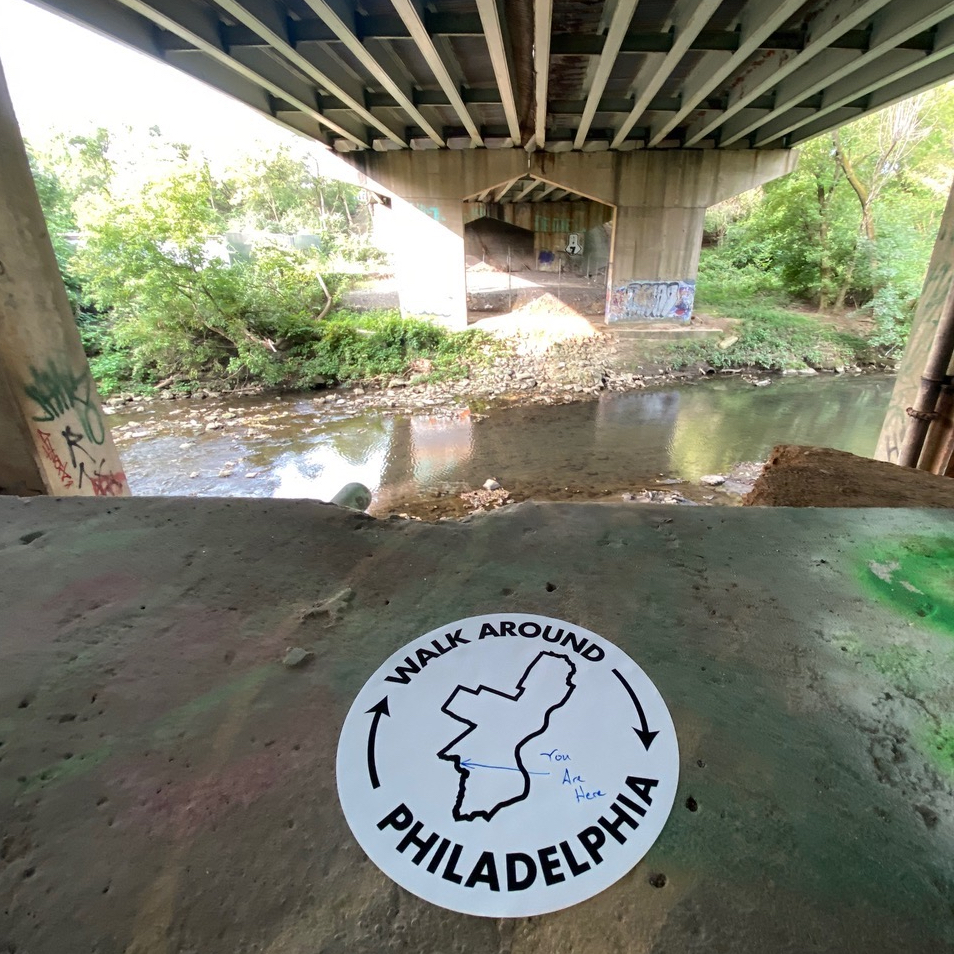 This experience, designed by Philadelphia based artist and Penn alumnus JJ Tiziou, will involve walking part of the perimeter of the city of Philadelphia. Reflecting SNF Paideia's pillars of dialogue, wellness, service, and citizenship, the event welcomes Penn students, staff, and faculty to share a fall pilgrimage along the edges of Philadelphia.
During this day long event, we will meet in the morning for light breakfast and a quick orientation to the walk, you will head out for about four hours of walking with a sack lunch provided, and we will reconvene to share stories over dinner.
As members of the Penn community walk together in small groups, they will engage in reflective dialogue with themselves, each other, and the city, gaining a more nuanced understanding of the diverse landscape, history, terrain, and place that is Philadelphia.
I got to experience the city from a totally different perspective and getting to see what the outskirts of a city look like is really valuable,
~Isaac Gateno, C'24
Through engagement with the city's boundary, "Walk Around Philadelphia" aims to create a sense of place, a sense of belonging, and a sense of accomplishment. Participants may encounter a wide range of experiences prompting change and transformation along the way.
Please RSVP by Friday, September 30th for planning purposes.
Penn no longer requires Penn Open Pass. In consideration of others, please stay home if you do not feel well.
FAQ's
What is included?
A transformative experience with your fellow walkers.

Breakfast, a sack lunch, and dinner.

Guidance/support in terms of the route you will take.
Printed and electronic maps and other walk goodies.
SEPTA passes to help you get to and from the perimeter.
What is the dress code?
We recommend attire that you would typically wear when hiking or going for a long walk.
Wear sturdy and comfortable walking shoes and dress in layers.
Bring a rain jacket and possibly an extra pair of socks.
Suggested packing list?
Make sure to be prepared for eventualities while also not overburdening yourself with too heavy of a pack. Some items (such as a map and compass) can be distributed amongst your group while others (food, water, raingear, etc.) you'll want for each walker.
Snacks and treats
Water bottle(s)
Pack of tissues or small roll of toilet paper (& garden trowel)
Shoes that are comfortable for long walks
Fresh pair of socks
Layered clothing (you may get hot while walking, cold while staying put)
Rain gear
Medication / first aid supplies – band-aids for scrapes, tape and moleskin for blisters, gold bond friction defense for chafing, anything else that you might need
Extra face masks (sterile/individually wrapped) and hand sanitizer for pandemic times
Notebook & pens
Camera (non-phone)
Smart phone (with map of Philadelphia pre-downloaded for wayfinding help, GPS-tracker apps, emergency calls etc)
Chargers and/or backup batteries for aforementioned devices
Pre-downloaded digital map of Philadelphia (SEPTA PDF, Google-maps-offline, Google Map of perimeter)
Cash + a credit card + ID
Compass
Flashlight / headlamp
A lighter and/or matches
Two medium sized plastic bags (grocery or kitchen, to keep your feet dry if fording a creek) plus rubber bands or tape to hold them in place)
One larger plastic bag to keep your whole backpack dry if it rains (or to pick up trash along the route)
Bright scrap of fabric or item of clothing for visibility when walking near traffic
Trekking poles or walking stick for stability if desired
A backpack is preferable to a shoulder bag for distributing your load evenly
What about meals?
A light breakfast, sack lunch, and dinner will be provided.
Consider bringing snacks & extra water.
Nuts and dried fruit are great fuel for the road.
What about bathrooms?
Bathroom access varies around the perimeter.
Pack a small roll of toilet paper, just in case. If you haven't yet tried it, the internet has answers to the question "how to poop in the woods?"
Due to the pandemic, some establishments' restrooms may not be accessible.
Will you provide turn-by-turn directions?
Nope. Part of this adventure is the challenge of exploring and wayfinding.
Maps and guiding principles will be provided but it's up to you to choose your own path around the city's edge. Each time someone walks the perimeter, they take a slightly different path, and each will afford new moments of discovery.
This link offers a preview of a past walk, if you're curious.
What if there's a place that I don't feel safe? Or an emergency?
You are undertaking this exploration in public space at your own risk; plan accordingly. A SNF Paideia staff member will be on call to answer non-emergency questions.
In the event of a medical emergency, call 911. Each group will include a minimum of four participants for safety's sake so that if one person is in distress, someone can stay with them while others go for help.
One of the guidelines for the walk is to prioritize safety. If there's a place that doesn't feel safe to you, don't go there! You always have the option to turn back and/or go around.
Everyone has different assessments of risk and safety. Pick what feels safe for you, and don't feel pressured to go somewhere that feels unsafe because another member of your group wants to or because some other group might have gone there.
It's important to acknowledge that, as we've tragically seen over and over in the news, walking in public places is not an activity where everyone is received in the same way. When JJ and his colleagues first walked the perimeter in 2016 they were conscious that they were doing so as white folks, and that someone who looked different than them might have encountered a different reception. The fact that people can get into problematic (or even deadly) situations for simply "Walking While Black" is a huge problem in our society.
What about other hazards along the way?
Some hazards might include road crossings without pedestrian passages, railroad tracks, ditches (sometimes water-filled), areas without sidewalks, active construction sites, etc. These are the types of hazards that you should go around if you can't find a safe way through.
Other hazards might include tripping hazards, flying golf balls, ticks and more. These are the kind of hazards that you have to keep an eye out for in the moment.
Another hazard is the potential to accidentally wander into a place you're not supposed to be, or into a place where other people don't think that you should be, which might result in an encounter with a neighbor or law enforcement. Prioritize safety, obey the law at all times, and explore with a spirit of curiosity & goodwill. If someone asks you what you're up to, respond with calm friendliness and tell them about your adventure.
What about bad weather?
The applicable saying is: "There is no bad weather, only inappropriate clothing"
Walking is possible in just about any sort of weather, although it might affect how much ground you are able to cover.
Look at weather forecasts as you plan your walk, and again as you set out.
Appropriate clothing is important (layers, rain gear, etc). Choose your shoes carefully, bring extra water.
How far and how fast will we be walking?
Each group will walk for approximately 4 hours, covering 8-9 miles, depending on the segment, number of breaks and the pace at which the group walks.
A gentle leisurely pace is encouraged to better take-in the surroundings. Each group will set their own pace and can take breaks as often as they'd like.
On average, "Walk Around Philadelphia" participants move at about 2 mph with breaks.