Thinking of the city of Philadelphia conjures up images of buildings, from Independence Hall and the charming red brick row houses in the historic area, to the Art Museum with its iconic "Rocky" steps, to City Hall topped with the towering statue of William Penn.
But those buildings are all in the city center, just a mile or two from one another, while Philadelphia itself encompasses more than 140 square miles, bounded by rivers, dotted with nature, commingled with blight. How can one get the true essence of a city?
The SNF Paideia Program wanted to help its student fellows do just that, and teamed up with Penn alumnus and artist JJ Tiziou for a "Walk Around Philadelphia" as a fall retreat last month for Paideia's fellows and campus partners. Ten small groups of Penn students, faculty, and staff walked the boundary of the city, each taking a different portion so as to cover the entire perimeter. The idea was to create a sense of place, a sense of belonging, and a sense of accomplishment through the unconventional tour of the city's edges. The SNF Paideia program focuses on educating the whole person and bridging differences through four pillars: dialogue, wellness, service, and citizenship.
The groups gathered the day after the walk to share their experiences. Almost all students expressed the same takeaway that a major benefit of the walk were the interesting and deep conversations they had with people they'd just met, of varied ages and backgrounds. It also led them to rethink the idea of a city, and how one experiences where they live.
"I expected the walk to be an ice breaker and a way to make new friends, but it turned out to be more than that," says Yasmin Abdul Razak, an undeclared sophomore in the College of Arts & Sciences from Malaysia.
Her group discussed everything from what it means to be a citizen to gentrification.
"I realized how much walking with people is a great way to connect. You get past the shallow conversation and end up talking about meaningful things. It was a time to do a lot of reflection as a group," she says.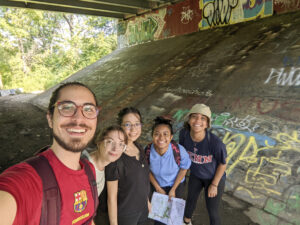 When Isaac Gateno, a sophomore from Houston, Texas, majoring in political science, first heard about the walk, he thought it would be a great opportunity to learn about Philadelphia.
"I was here last semester, but because of COVID and restrictions, I wasn't really leaving campus at all. I didn't know much about the city that was going to be my home for the next four years," he says.
He was assigned the portion of the walk along the Delaware River, which he initially envisioned as a picturesque stroll along the water. It wasn't quite that. Loading docks, overgrown abandoned rail tracks, an overturned minivan, dead ends into chain link fences and a disused pier covered in amazing graffiti were all features of his group's stretch of perimeter.
"I got to experience the city from a totally different perspective and getting to see what the outskirts of a city look like is really valuable," Gateno says.
He imagines the tour would be particularly valuable to native Philadelphians who mostly stick to their neighborhoods.
"If I had done the same tour of Houston, it probably would have hit me in a very different way because it would have been so eye-opening. I can imagine seeing the world around me open up and seeing the city that I lived in my whole life suddenly change," he says.
Razak had a similar experience, thinking about her hometown in Malaysia and how little she's really seen of it.
"My biggest takeaway is that there's always more to home than you realize," she says.
Jane Muni, a sophomore majoring in the School of Nursing from Nairobi, Kenya, was preparing to be exhausted from the walk, she says, but she surprised herself in making it the whole way.
"It was good for me to step out of my comfort zone," she says.
Her group traversed a section of the city that included the John Heinz National Wildlife Refuge and the Philadelphia International Airport. Making their way across a major thoroughfare was an unexpected and exciting highlight, but the best part was the conversations she had.
"It was great to have one-on-one communication with my professor in a non-formal setting," she says.
Leah Anderson, executive director of SNF Paideia, says that after so many months apart, they really wanted to celebrate being together on campus with a program that was interactive, and the "Walk Around Philadelphia" ended up being a great way to explore and engage in all four of Paideia's pillars: dialogue, wellness, service, and citizenship.
I realized how much walking with people is a great way to connect. You get past the shallow conversation and end up talking about meaningful things. It was a time to do a lot of reflection as a group.
~Yasmin Abdul Razak, sophomore in the College of Arts & Sciences
One particularly valuable aspect of the walk was the participation of faculty and staff from other partner programs at Penn, she says.
"It was terrific for our students to make connections beyond our program and to hear about different things happening at the University that they may or may not be familiar with," she says. "I also think intergenerational conversations are really valuable, especially right now, and the walk made those possible."
One of those Penn faculty and staff members was Pablo Cerdera, associate director of the Office of Student Conduct.
He was in Razak's group, which started off near Cobbs Creek and wound up along City Ave.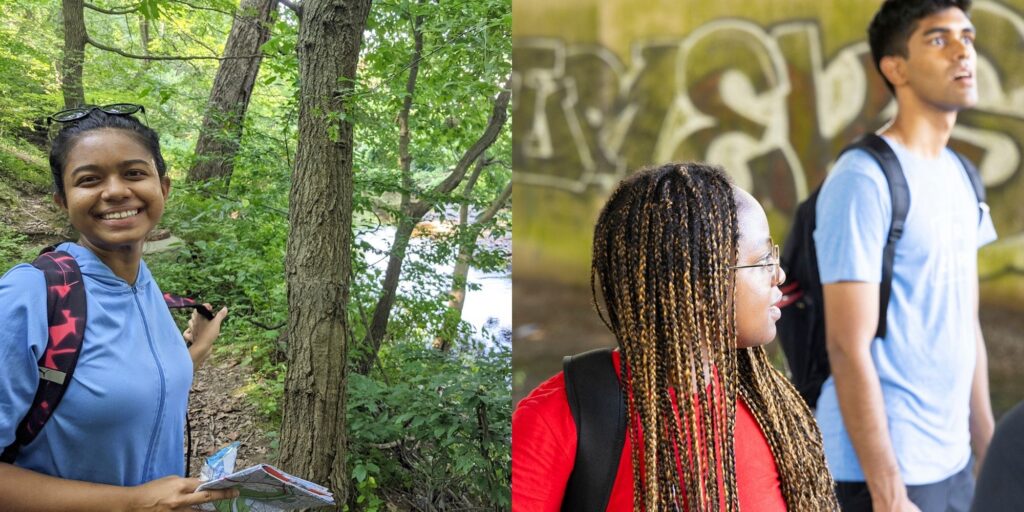 "When I found out that we would be walking Cobbs Creek, I was excited because that is very close to my house, and despite that, I had never been there before," says Cerdera, who grew up in Philadelphia. "I was also nervous about what it would be like to traipse through the undergrowth, especially in the heat and the rain."
He says it was a powerful experience to see the transition between the quiet nature of Cobbs Creek Park, and then the bright, built-up busyness of City Ave.
The connections he made over the course of the day with students were a "very pleasant surprise," he says. "The group of us who walked together have stayed in touch, and we are planning to get a meal all together soon."
Who are your partners and who are you traveling with? How is that shaping how you travel and talk and interact with each other? It's about the challenges of finding your way.
~Leah Anderson, executive director of SNF Paideia
Artist and photographer JJ Tiziou designed the walk back in 2016 as part of a Knight Foundation-funded project. He says he thought it would just be a one-off project but has since "taken on a life of its own," and transformed into a pilgrimage of sorts. He's offered it as part of the city's Fringe Festival, to high school groups, as well as private tours that can be set up online.
Working with students in the Paideia program was a natural fit for the walk, he says.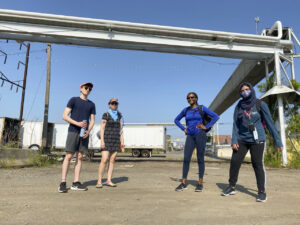 "The four pillars of the Paideia program are what this experience is all about," he says. "It vastly expands the idea of the city you are trying to be a citizen of; it informs your sense of how you can serve the city; it creates a space where the conversations are very different than what would happen at networking events or in a formal roundtable; and it's a wellness practice that changes your sense of what is walkable in the city."
He's done the walk many times, and it's never the same twice. The perimeter never changes, but the path you take always does, depending on who is with you, the weather, and how you're feeling, he says.
That's a metaphor that really speaks to the Paideia program, says Anderson.
"Who are your partners and who are you traveling with? How is that shaping how you travel and talk and interact with each other?" she says. "It's about the challenges of finding your way."