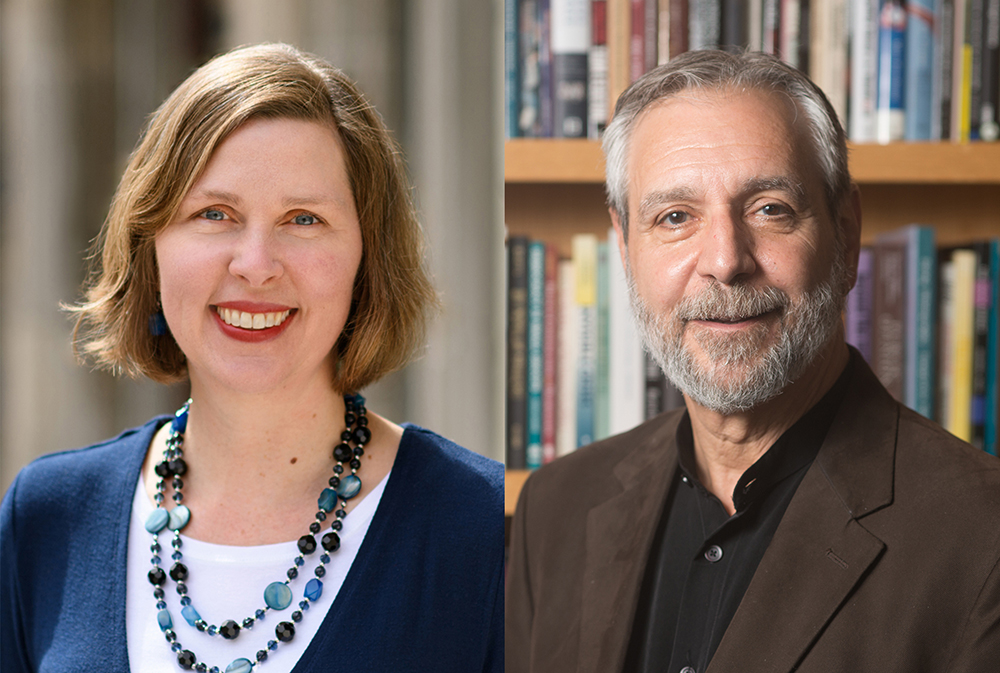 The Paideia Program, announced in March with a $6 million gift from the Stavros Niarchos Foundation, reimagines the ancient Greek ideal Paideia—"education of the whole person"—for the 21st century and beyond, with courses focusing on wellness, service, and citizenship. Paideia will place an emphasis on informed civil discourse and deliberation and will incorporate co-curricular experiences through which future civic leaders and members of local, national, and global communities practice productively engaging across ideological divides. Paideia will begin as a five-year pilot program, building on and collaborating with existing programs and organizations on our campus."
Teaching the skills and habits of citizenship, service, and wellness," said Gutmann, "remains among Penn's and higher education's highest callings. The Paideia Program at Penn will offer a unique, impactful, and timely pedagogic approach to doing just this—educating the whole person—and there's no one better suited to lead this effort than Michael Delli Carpini, himself a consummate Penn citizen and renowned scholar and teacher of public deliberation.
With our new executive director, Leah Anderson, Michael will help Penn realize Paideia's vision of educating young people to realize their potential as active and engaged members of society. We are enormously grateful to the Stavros Niarchos Foundation for their support of this transformative and exciting initiative and to Michael for his excellent work in building this nascent program. We look forward to formally launching Paideia this spring.
Delli Carpini served as the Walter H. Annenberg Dean of Penn's Annenberg School for Communication from 2003 to 2018. He is a world-renowned expert on the role of the citizen in democratic politics, especially the impact of new media and communication technologies on public opinion, political knowledge, and political participation. A champion of interdisciplinary knowledge as dean of the Annenberg School, he established new research centers and working groups across such essential areas as global communication, media activism, health communication, and communication neuroscience, while recruiting eminent faculty members in such disciplines as sociology, psychology, anthropology, political science, and the history of science.
Leah Seppanen Anderson is currently associate director of the Program for Community-Engaged Scholarship at Princeton University. In this role, she collaborates with students and faculty across the university to connect their courses and research to the work of community organizations. She helped launch Princeton's Service Focus initiative, which bridges service and learning in the first two years of the undergraduate experience and works closely with students to plan their community-engaged research, service, and internship opportunities. She taught for 14 years as an associate and assistant professor of politics and international relations at Wheaton College, including three years as department chair, and earned a Ph.D. in 2003 and an M.A. in 1999, both in political science, from the University of North Carolina at Chapel Hill. She earned a B.A. summa cum laude in political science and history in 1995 from Wheaton College.
"Our outstanding Penn students are committed to having a positive influence on our global and local communities," said Pritchett. "The Paideia Program will provide students with the foundations necessary to ensure that they have deep and long-term impact through a wide range of educational and engagement activities, as well as exposure to the historical traditions of service and citizenship. In this way, under the exceptional leadership of Michael Delli Carpini and Leah Anderson, the Paideia program will contribute greatly to Penn's core mission to bring together education, innovation, and impact."
The Stavros Niarchos Foundation, whose co-president Andreas Dracopoulos is a Penn graduate, is one of the world's leading private, international philanthropic organizations, making grants in the areas of arts and culture, education, health and sports, and social welfare. Since 1996, the Foundation has committed more than $2.8 billion, through more than 4,500 grants to nonprofit organizations in 124 nations around the world. It funds organizations and projects worldwide that aim to achieve a broad, lasting, and positive impact for society at large and that exhibit strong leadership and sound management. The Foundation also supports projects that facilitate the formation of public-private partnerships as an effective means for serving public welfare. Additional information is available at snf.org.
"Leadership Named for Paideia Program at Penn."
Originally published in Penn Today, Oct 28, 2019.