EAS 204 is an adaptation of a course taught by Professor Christopher Yoo, Professor Michael Horowitz, and Dean of the Engineering School Vijay Kumar, about emerging technologies. What is unique about the SNF Paideia designated version of the course is the explicit focus on civil discourse and technology. In thinking through how the course fit with SNF Paideia's mission of integrating service, civil dialogue, and citizenship through dialogue, Shields said, "I really wanted to break down the false dichotomy between technological expertise or humanities training for the students and open up the opportunity for Engineering students to consider themselves to have an important role, not just creating technological systems but also being important participants in civil discourse." Through guest lecturers, readings, discussions and assignments, the course reinforces the idea that technology is not developed in isolation. The human dimension of technology is also emphasized throughout the course. "We can broaden our definition of technological systems to being socio-technological systems. Where the people that are interacting with these technologies, using these technologies, relying on the technologies, are communities of people that are served and are part of these technological systems. Engineering and STEM professionals need to be fluent in civil discourse and feel equipped and empowered to communicate clearly with all the stakeholders." Professor Yoo and Senior Lecturer Shields intentionally designed a class that would inspire undergraduate students to reflect upon their emerging professional identities and integrate civil discourse with different audiences, whether it's a government agency, the media, regulatory bodies, funders or end-users, and think about their civic responsibility to the constellation of stakeholders who have different levels of agency and power in that relationship.
Demonstrating Civil Discourse through Implicit and Explicit Methods
Each week, a different guest speaker presents their research to the class. Students are assigned readings that are examples of civil discourse authored by the guest lecturer. For example, Michelle Johnson, Associate Professor of Physical Medicine and Rehabilitation at Perelman School of Medicine and Director of the Rehabilitation Robotics Lab, presented her work on rehabilitative robots. Shields explained, "We really wanted to frame for our students how Professor Johnson is very cognizant of the users of her technology. And how she clearly demonstrates this commitment through her exceptional use of civil discourse." The students were assigned a TedTalk and two scholarly journal articles as examples of how Professor Johnson uses her platform as a researcher to educate the public about rehabilitative robotic technology and the implications of her work. "In the TedTalk she explains why rehabilitative robots are affordable, accessible, and their importance for patient autonomy. The scholarly articles show how, through her research, Professor Johnson and her co-authors gather input from patients, clinicians, and other users on their needs and expectations to inform the design and development of this innovative, emerging field." For example, in one of the studies, the researchers surveyed patients about what facial features they preferred on their rehabilitative robot. "Did they prefer a one-dimensional, printed-on face or did they prefer lights that reacted in real time, or perhaps an emoji with various expressions such as a smile or frown." Through her TedTalk, journal articles and visit to the class, Michelle Johnson demonstrates how researchers are attuned to the specific preferences of the rehabilitative robots they are creating for patients…engaged scholarship at its finest.
The roster of guest speakers is impressive. "We selected faculty that have exemplary careers and explicitly demonstrate how they use skills of civic engagement and discourse. These are world class engineering and communications experts that are making the choice to engage in civil discourse." For example, Professors Michael Kearns and Aaron Roth spoke about their work with ethical algorithms; Dean Vijay Kumar presented on Robotics and Artificial Intelligence; Professor Michael C. Horowitz, Director of the Perry World House, spoke on emerging technologies and global politics; and Michael X. Delli Carpini, Faculty Director, SNF Paideia Program and Oscar H. Gandy Professor of Communication and Democracy spoke on Digital Media and Democracy. And these are just a few. "We are explicitly analyzing their work and how they are engaging in civil discourse. Implicitly, we are showing role models of technical experts that have identified a responsibility to society through their work. It provides students a handful of examples of SNF Paideia's notion of integrating citizenship and civil discourse throughout one's day to day life and one's daily decision-making processes. The decisions these experts are making even from the design stage of an innovative process reflect the important role and awareness of civil discourse." Students are being exposed to a variety of examples for how to integrate their future careers in engineering with a broader consciousness of citizenship and civic responsibility.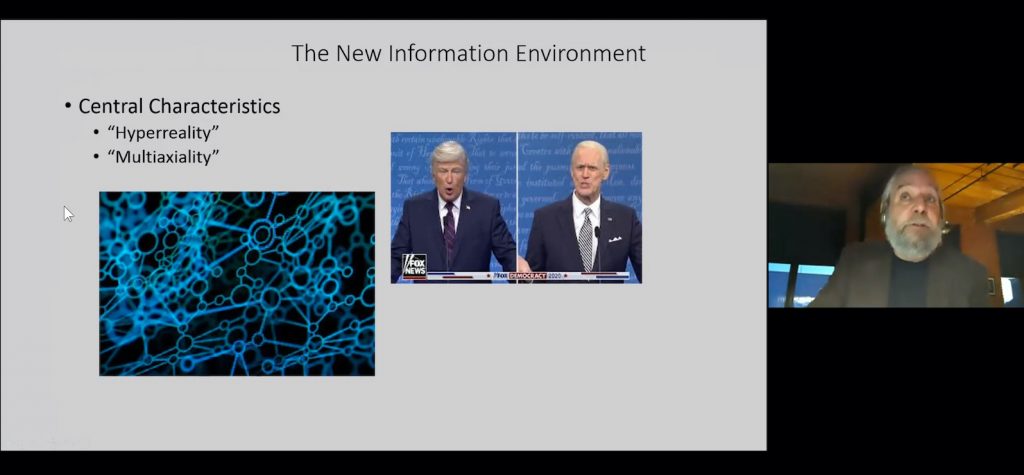 Social Groups and Innovation
Jerry Seinfeld's portrayal of how a camera was added to the cellphone is only part of the picture. In reality, technologists are responding to a complicated system of societal needs and market demands when working in emerging technologies. Shields shared, "One of the scholars I cite more often than not is Ruth Schwartz Cowan, Professor Emerita History and Sociology of Science in the College of Arts and Sciences. She has this theory about social groups and innovation that is really pushing back on the idea that innovators work in isolation. Rather, the concept of social groups of innovation posits it is a complex relationship between many different players, all contributing to an iterative process." Students in "Technological Innovation and Civil Discourse in a Dynamic World" are learning the level of complexity of the topics covered and how multidisciplinary techno-social solutions are. By definition, emerging technologies are outpacing regulations and social-norms, yet socio-technical systems impact the very fabric of democratic society. "Our society, our built environment, our medical care, the way we communicate with each other, our transportation systems, our energy supply, the enormity is amazing, and the students have really grasped that concept." Students are learning how a robust civil discourse anchored in technical expertise, cultural context, and inclusivity can foster the optimization of the benefits of emerging technologies. In short, they are learning how to be whole people and impactful citizens in a complex and exciting world.