Presentation by Ernesto Pujol, Sachs Professor in Fine Arts in conversation with Carol Muller, Professor of Music.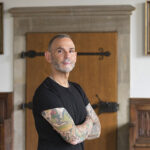 Ernesto Pujol is a site-specific performance artist and social choreographer. His interdisciplinary projects draw unapologetically from world religions as embodied cultural material containing the rich performativity of belief. A portraitist of place, Pujol strives to reclaim historic public space from distractions, revisiting emblematic architecture and mythical landscapes. Pujol is the author of "Sited Body, Public Visions, silence, stillness and walking as Performance Practice" and "Walking Art Practice, Reflections on Socially Engaged Paths".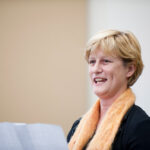 Carol Muller is a Professor of Music (ethnomusicology), who has published widely on South African music, both at home and in exile. Her intellectual interests include the relationship between music, gender and religious studies, migration and diaspora studies, and critical ethnography. Muller has published on South African jazz, religious performance, traditional and popular musics in a variety of journals that represent her interdisciplinary interests.
As an extension of the Mystics and Visionaries: Art and Other Ways of Knowing seminar, this partnership between the Department of Fine Arts and the SNF Paideia Program is the second of two public Zoom dialogues that will be offered to explore ideas of nonlinear modes of being and knowing. The first dialogue with Dr. Andrew Newberg and Professor Justin McDaniel, "Other Ways of Knowing: At the Intersection of Neuroscience and the Mystical", took place on March 3rd. Watch the video: