Hilma af Klint was an early 20th century Swedish painter and spiritualist who began creating radically abstract paintings in the early 1900s, long before the likes of Vasily Kandinsky and Piet Mondrian embarked on their efforts. Her body of work has only recently begun to receive serious attention, culminating in a Guggenheim 2018-19 exhibition, "Hilma af Klint: Paintings for the Future." It was the first solo exhibition of af Klint in the United States and became the most-visited exhibition in the museum's history, bringing in more than 600,000 visitors and leading the Guggenheim to extend it multiple times.
Af Klint requested her paintings not be shown until at least 20 years after her death, saying she felt the world wasn't ready for her work. And it wasn't, not only because she was a woman painting in a style that was yet to be considered true art but also because of the way she "received" the paintings: After working as a medium for 10 years with a close group of women friends, she received a "commission" from her spiritual "guides" to create a radical and unprecedented group of paintings.
For Jackie Tileston, an associate professor in the Department of Fine Arts in the Stuart Weitzman School of Design, the exhibition inspired her to design a seminar using af Klint's work as a jumping off point to examine the ways in which mystical and alternative forms of knowledge have fed artistic practices, both in the past and for contemporary artists in cultures around the globe.
The idea became Mystics and Visionaries: Art and Other Ways of Knowing, a fine arts seminar she taught during the spring semester.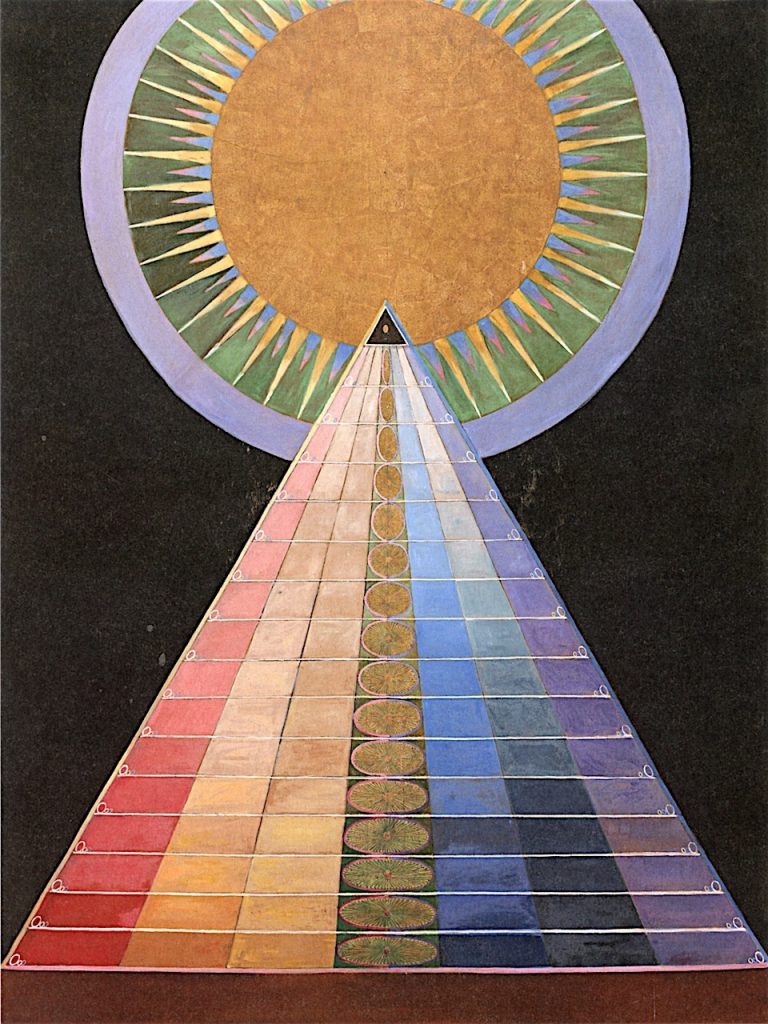 "I'm using Hilma as a hub out of which we explore artists who work with other modalities, other ways of creating, other ways of working with imagination, intuition, and inspiration," she says. "Some of those approaches are not normally part of what we do in academia and are often not taken seriously as a form of research. I felt like it was important to create an intellectual space where we could have these conversations."
The seminar involved a wide range of readings, lectures, discussions, projects, and experiential exercises with visiting lecturers from neuroscience, religious studies, and positive psychology. They studied contemporary artists influenced by Eastern philosophies to Tantra paintings and Tibetan sand mandalas to Carl Jung's "Red Book," in which the psychoanalyst explored the unconscious mind in a massive tome of his own art, calligraphy, and writings, which wasn't published until 2009.
"One of the hidden blessings of the pandemic is that everything's on Zoom, which allowed me to invite guests from farther afield than in a typical year and to share those guests with the Penn community," says Tileston. "This moment allows us to be generous and inclusive in a way that we normally couldn't."
Visiting virtual guests included Corine Sombrun, who Zoomed in from her home in France. She is the first Western woman fully trained in the Mongolian shamanic tradition, and along with psychologist/dream worker Nadine Kreisberger she discussed the intersection of trance, neuroscience, and psychology and the latest research and explorations around the potential of cognitive trance for wellbeing and creativity.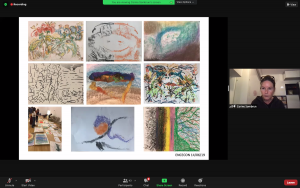 "We are using art as a lens to look at how various states of consciousness can contribute to creativity and our perceptions of reality," Tileston says.
Tileston also teamed with Penn's SNF Paideia Program to make two of the seminar's visiting guest lectures public for the wider community. Those included "Other Ways of Knowing: At the Intersection of Neuroscience and the Mystical," a conversation between neuroscientist Andrew Newberg and Justin McDaniel, undergraduate chair of religious studies, and "Other Ways of Knowing: The Listening Project," a presentation on by Ernesto Pujol, a site-specific performance artist, social choreographer, and Sachs Professor in Fine Arts, in conversation with music professor Carol Muller.
"The SNF Paideia Program believes that dialogue is crucial to higher education and to democracy. Listening seems like it might be the easiest part of engaging in dialogue across difference. In fact, deep and active listening is more demanding than we suppose," says Leah Anderson, executive director of the SNF Paideia Program. "These lectures, which explored the art and science of listening, exposed some profound opportunities and challenges we face as we seek to truly hear from and engage with others in robust and meaningful dialogue."
Tileston sees the course as inspired by and an extension of initiatives like the Penn Integrates Knowledge effort, which recruits professors whose work draws from two or more academic disciplines and whose achievements demonstrate an ability to thrive at the intersection of multiple fields.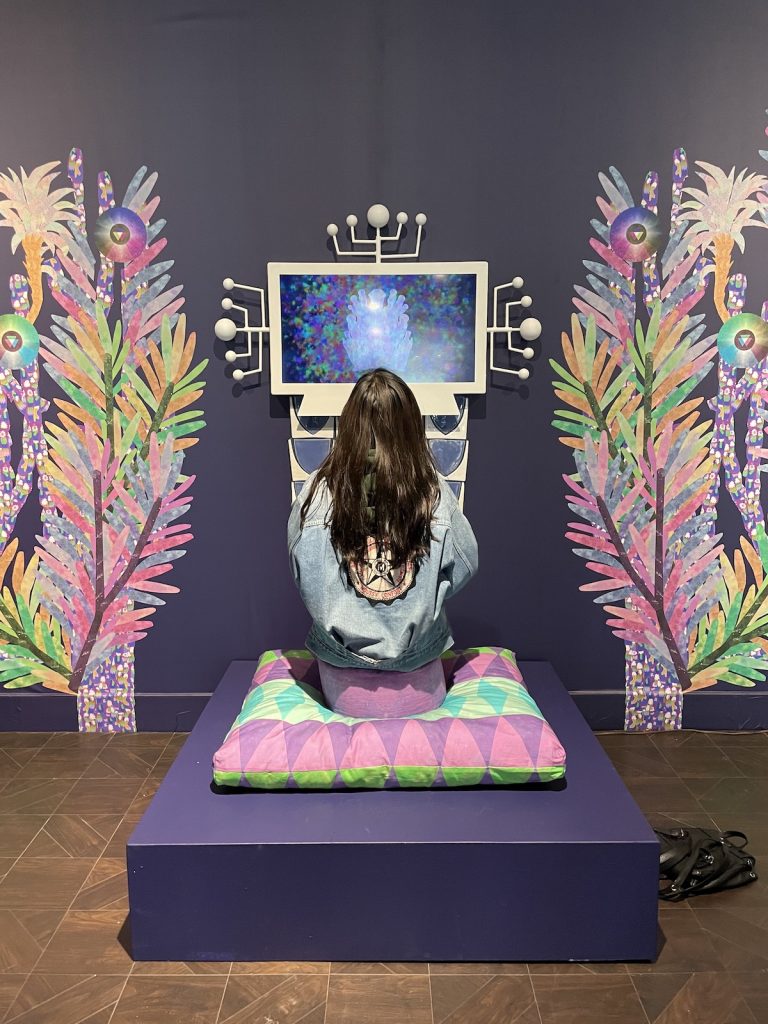 "The fine arts are really a place where that's happening all the time," she says. "One of the things that I've always loved about the arts is how radically inclusive they are: politically, socially, intellectually. There's literally no field of study, or thought, or experience that can't be integrated into an art practice."
Even af Klint herself considered the work she was doing to be research, Tileston says. The seminar was open to both undergraduates and graduates and, although about half of the students enrolled were a combination of MFA students and art and design majors, the rest ranged from physics and Wharton students to computer science and engineering majors. In preparation for the class, she assigned a viewing of neuroscientist David Eagleman's talk on Possibilianism.
They all shared an open mindedness and curiosity, she says. "They're coming in as true agnostics, just being curious about what the possibilities are of how we think and perceive and experience the world and how that can enable us to be better citizens of the planet, better creators, better thinkers," says Tileston.
Tina (Zetong) Jia, who just graduated with a degree in engineering and computer science, decided to take the class after her roommate told her how much the course in 2019 had changed her perspective on the world.
Jia, who is from a small city just outside Beijing, says so many of her previous classes at Penn were logic-based due to her majors, but since it was her last semester at Penn she wanted to branch out and explore something new.
"I was very much a skeptic, but I was interested to see how the class might shift my perspective," she says. "I didn't know what to expect other than that it would be something completely out of my comfort zone."
She assumed she would be an outsider just observing the class, but after a few sessions she realized she was gradually changing the way she thought about the topics.
"I had shut the door to accepting things like this, but I realize I need to be more open to possibilities and also realize the world is a lot more complex," she says.
She says she began to see these types of mystical experiences as a spectrum, where on one end is something very intense, like af Klint's visions, and on the other end is something like a person getting "in the zone," doing something they enjoy, being in the flow, and losing track of time.
"If you change your perspective and change the way that you interpret things and allow yourself to be more open to these kinds of experiences, maybe you can move toward the other end of the spectrum," she says. "Maybe if everyone had these kinds of experiences, and people felt more connected to each other, the world would become a better place," she says. "The class has encouraged me to keep exploring in this direction and to be more open in general."
He-Myong Woo is a first year MFA student from New York City, whose work in the program focuses on bringing sound and movement together with videos and photos in installations.
He says he'd been developing ways of bringing his understanding of spirituality better into his art practice, and the seminar opened new ways of seeing that helped deepen and clarify his own experiences.
Both he and Jia say the course discussions were amazing and the allotted three hours never seemed like enough.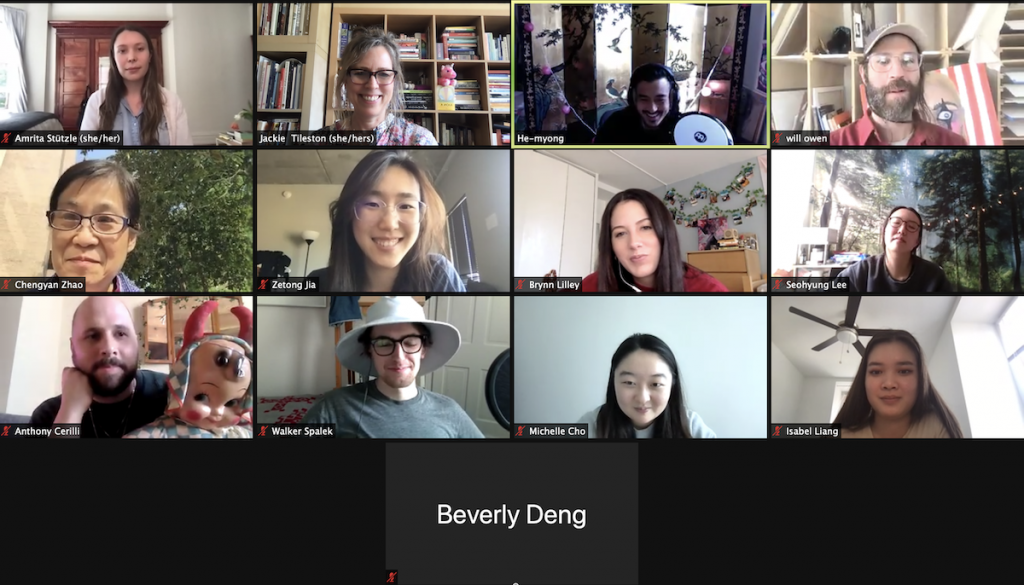 "I don't know if there is another class like this, especially in such a well-known research institution," He-Myong says. "But it feels like we're coming to a moment when people are more inclined to start to ask questions about spirituality again. Artists in particular are usually at the forefront of thinking about such things, so this class certainly is resonating for this moment."
Two of the course's virtual events can be viewed online on the SNF Paideia Program's YouTube channel, including "Other Ways of Knowing: At the Intersection of Neuroscience and the Mystical," and "Other Ways of Knowing: The Listening Project."
"Mystics and Visionaries: Art and Other Ways of Knowing" will be offered this fall (FNAR 240/540-401, Tuesdays 1:45-4:45 p.m.)