For the first time in three years, the Women of Color at Penn (WOCAP) hosted its annual award ceremony in person. WOCAP, which is housed in the African-American Resource Center (AARC), used the March 17 event to celebrate the achievements of women of color at Penn and in the broader community, highlighting this year's theme of self-care and healing.
As the WOCAP chair, Mattie Maria SimBarcelos, a staff member at the Wharton School, gave opening remarks. "The past few years have been so heavy with grief and isolation that I wanted to create safe spaces for restoration, reflection, and healing," SimBarcelos wrote in her program remarks.
SimBarcelos welcomed Joann Mitchell, senior vice president for institutional affairs and chief diversity officer, who read remarks from President Liz Magill. Magill thanked SimBarcelos along with the WOCAP committee, for "your determination, your efforts, and your passion." The award ceremony and luncheon, which brings together more than 300 allies, reminds us that we are all committed to making progress, not just here at Penn but throughout our society, she said.
Mya Gordon, a junior majoring in urban studies from Lake Oswego, Oregon, won the undergraduate student award. Gordon is a Silverman Fellow at the Netter Center for Community Partnerships and has worked in the Penn Program for Public Service. Gordon spoke about her commitment to improving relationships between Penn and West Philadelphia and thanked her grandfather, who was in the audience. "The thing he always told me growing up is the mind is a terrible thing to waste," she said. "So, I'm really trying to use mine to support my community and the people I care about."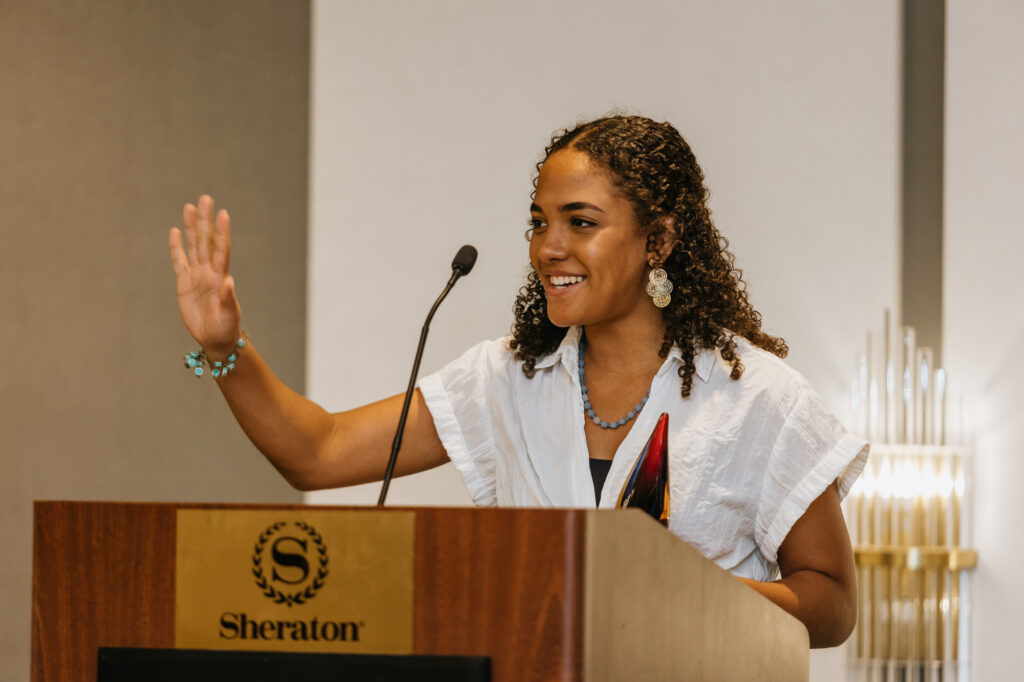 Kyabeth Torres-Rodriguez, a third-year Ph.D. student in the Cancer Biology Graduate Program in the Perelman School of Medicine, won the graduate student award. Torres-Rodriguez is studying tumor immunosuppression and has an interest in diversifying science. She recently served as the lead for the Program Development Committee for the Diversity Equity Engagement at Penn in STEM, an initiative designed to diversify Perelman, the School of Engineering and Applied Science, and School of Arts & Sciences.
Shelah Harper, founder and CEO of the Asia Adams Save OUR Children Foundation Inc. won the Community Award. After her daughter's death, Harper has dedicated her work to protecting young women and girls from intimate partner violence. "Our children are priceless," said Harper, who urged the audience to "do something, anything" to connect with children.
The Faculty/Staff Award went to Sharon Irving, associate professor of pediatric nursing in the School of Nursing. Irving also serves as a senior fellow at the Leonard Davis Institute and as a steering committee member of the Penn Center for Nutritional Science and Medicine. "When there is a task or a need or a challenge, she does not shirk the responsibility," said Colleen Winn, who introduced the honoree.
Irving is a first-generation college student from Harlem who became one of the first Black pediatric critical care nurse practitioners in the U.S.
"I chose nursing because nursing allowed me to be me," Irving said. "It also allowed me to reach back and help."
AARC director Valerie Dorsey Allen was this year's Joann Mitchell Outstanding Legacy Honoree. Over her many years of leadership, Dorsey Allen has consistently served on the WOCAP committee. "My WOCAP family has been a cocoon when I needed to be protected and a cheerleading squad when I have had achievements," Dorsey Allen said.
Diane Waff, professor of practice at the Graduate School of Education, won this year's Helen O. Dickens Lifetime Achievement Award. Waff is the director of the Philadelphia Writing Project and has worked for the organization for 30 years, improving teaching and learning, building community, and addressing issues of race, power, and gender in schools. "Young people's writing and creativity continues to inspire me," she said.
The voices of color presentation included reflections from Sharon Smith, associate vice provost for university life; Nesha Subramaniam, a South Asia Studies major in the College of Arts and Sciences; Krista L. Cortes of La Casa Latina; and Zhanar Beketova of the Graduate School of Education. Each woman offered testimony from her own personal experiences.
Smith shared the story of her family's migration from the Caribbean to the U.S., where Smith was one of the few Black students in her suburban high school, which filled her with anxiety. "I'm sure to this day," she says, "everyone at that high school thinks I'm shy."
Subramaniam is Sri Lankan American. Losing several family members during the Sri Lankan Civil War gave her a heightened awareness to human rights violations and global health, she said. "To be part of the American diaspora is having your life shaped and impacted by diversity, struggle, but also by constant rebuilding and rebirth. Individual cultural differences will always be present but so will human connection."
Cortes spoke of her work to understand her Afro-Latinx identity, which she then uses to make others feel seen and accepted, she said. "For Black women, leading in higher education looks a lot like mothering," Cortes said.
Beketova, who is originally from Khazakstan, spoke of colorism in her home country.
Prevalent in countries with a history of colonialism and slavery, colorism causes people within the same ethnic group to treat one another differently based on skin tone, she said.
As a child, Beketova internalized negative messages. Now, she wants "every little girl growing up to know that she's beautiful because she is human."
Mariel Diana Featherstone, a staff member in the Neuroscience Graduate Group, will serve as the 2024 chair. The theme, she said, will be "facing our fears and growing and adapting to change."