Civic engagement across partisan divides is seemingly at an all-time low – recent polling shows that nearly half of college students would refuse to room with someone of the opposite political persuasion. A new study published in March 2023 found that "1 in 4 students ruled out (higher education) institutions solely due to the politics, policies or legal situation in the state where the school was located."
Amid such polarization, the University of Delaware Stavros Niarchos Foundation (SNF) Ithaca Initiative convened its annual SNF Ithaca National Student Dialogue on March 24-26 2023, at the University of Delaware to foster a discussion among civic-minded college students and faculty on how to strengthen the future of democracy.
The SNF Ithaca Initiative, launched by UD's Joseph R. Biden, Jr. School of Public Policy and Administration in the fall of 2021, serves not only as UD's home base for civil discourse but as a national hub where students from across the country can come together and develop the civic engagement skills that will strengthen our democracy.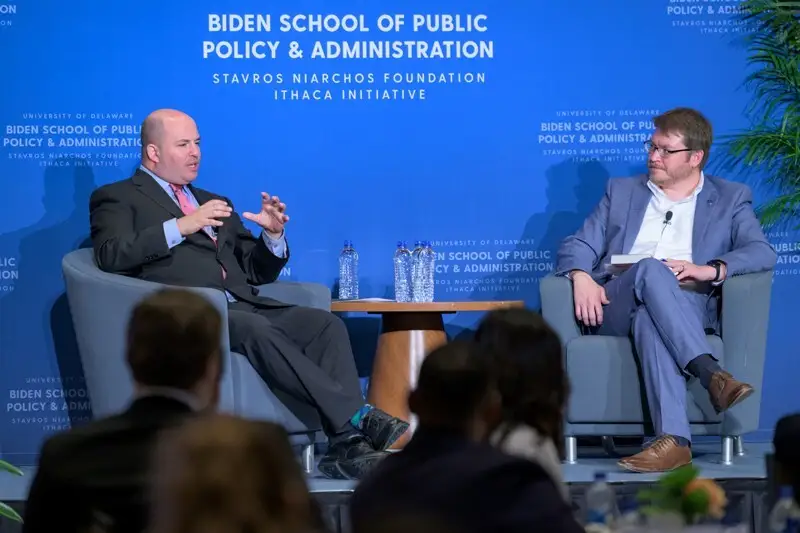 Approximately 100 college student ambassadors and faculty members from universities, colleges, and schools across the United States participated in the weekend-long event. Those who participated in the SNF Ithaca National Student Dialogue represented a notably diverse cross-section of academic majors — from public policy to communication to biochemistry and religion. In a moment when civil discourse in politics is rare, students of all backgrounds and skill sets must play a role in strengthening our democracy; cross-discipline education plays a key role in democratic civic engagement.
Participating institutions included the University of Delaware, Delaware State University, American University, Arizona State University, Colorado State University, Davidson College, Drexel University, Duke University, Florida International University, George Mason University, Georgetown University, Hampton University, Harvard University, Howard University, Johns Hopkins University, Providence College, Simpson College, Stanford University, Syracuse University, the City College of New York, The Ohio State University, University of Arkansas, University of California – Berkeley, University of Central Florida, University of Chicago, University of Connecticut, University of Michigan, University of Missouri, University of New Hampshire, University of North Carolina – Chapel Hill, University of Pennsylvania, University of San Francisco, University of Tennessee, and the University of Virginia.
"Attending the SNF Ithaca National Student Dialogue has been a fantastic experience," said Stefanie Vestal, a graduate student at the University of Arkansas Clinton School of Public Service. "I am leaving inspired and having met many passionate, talented individuals. The workshops and speakers have done a great job of preparing me to bring principles of civil discourse back to my school and hopefully take meaningful action on issues I and others care about."
Trust and truth
Ongoing conversations in the media on misinformation — and the role of social media platforms in disseminating it — run rampant online. Significant debates about accuracy and truth created an opening to frame the SNF Ithaca National Student Dialogue as a badly needed corrective that facilitates productive civil discourse by lifting up youth leaders and giving them tools to bring back to their communities. The theme of this year's dialogue was "Trust and Truth: Confronting Anti-Intellectualism Through Civil Discourse."
Amy Ellen Schwartz, dean of the Biden School at UD, welcomed the participants, stating, "The truth is that democracy is in danger. But the threat we face is not due to our different political views or our specific policy preferences. What is being threatened are some of our core democratic principles — civil discourse, civic engagement, and the very notion that we can trust information in our mediated public life. Anti-intellectualism is one of many weapons being used against our democracy. In this moment, we need to be thoughtful and informed citizens."
Schwartz challenged participants to "listen deeply, engage honestly, and share in meaningful dialogue" during the weekend's activities and when they returned to their home states and college communities.
"So much of the college experience is learning to be a critical thinker," said Timothy J. Shaffer, Stavros Niarchos Foundation (SNF) Chair of Civil Discourse at the University of Delaware. "College students want spaces to have tough conversations and confront real issues. We are here to help facilitate that and teach students not what to think, but how to think and move beyond talk to real action."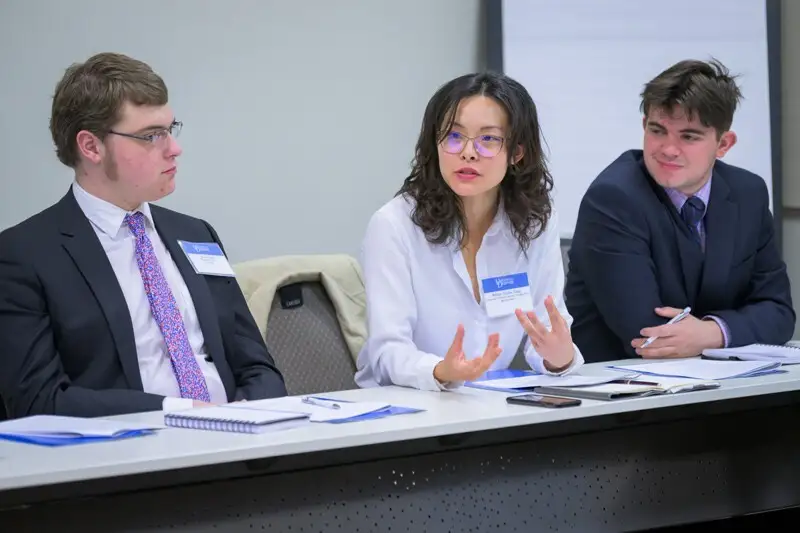 UD's SNF Ithaca Student Leaders began the weekend's activities by leading their peers in exploring a case study from New York University on anti-intellectualism in higher education. The student leaders defined anti-intellectualism as "that set of beliefs and practices which oppose the virtues of critical thinking, free inquiry, and charity towards opposing viewpoints."
This first session introduced the topic of anti-intellectualism in a way that provoked students, faculty, and staff to think about issues of knowledge, power, and responsibility. What occurred, in that case, follows a familiar narrative: the professor does something students disagree with, and students utilize petitions to realize their goal. The student leaders facilitated small group discussions about the multiple dimensions of the case, such as the tensions among a professor, students, and administrators and how anti-intellectualism manifests in higher education.
As the students reconvened after facilitated dialogue, several students expressed frustration that there wasn't an attempt to address the issue through means other than protest. What dialogue participants noted was a missed opportunity for dialogue between administrators, faculty, and students to address the issues at hand.
To shed light on the media's role in democracy and dialogue, Shaffer led a discussion with former CNN anchor and SNF Ithaca Visiting Fellow Brian Stelter.
Stelter's interest in the role of news media began while he was a college student. He recounted how he saw an area of interest that wasn't being explored, so he created a popular blog himself between classes and writing for the student newspaper at Towson University. He also spoke about the importance of shows such as Reliable Sources, on the air for 30 years, offering critiques of news media and the challenges faced today with the self-selection of information sources. In response to one participant's question about how to trust the information seen in the news, Stelter noted that efforts such as community notes on Twitter are an opportunity for increasing trust in the information we consume.
"Students have more power than ever before," Stelter said. "I emphasized that everyone is a member of the media now — with the power to create content, share dialogue and improve the information ecosystem. Anyone now has the ability to make constructive contributions and to counter destructive forces. 'The media' is not some faraway beast — it is all of us. We can all do our part to develop a well-informed citizenry."
From dialogue to action
Students were then invited to identify topics of interest through a democratic process known as open space technology. They selected four topics: censorship in higher education; epistemic injustice and racial justice; government intervention regarding reproductive rights and bodily autonomy; and political polarization. Utilizing a public policy framework in sessions facilitated by Biden School Professor Philip Barnes, students worked in breakout sessions to define problems, map stakeholders, and workshop solutions with groups of students from different institutions.
"We want students to articulate what they care about, find others who also care about the same issue, and then organize the right people who can enact change — whether that's a dean of students, a community leader, or even a group of their peers — and then work through a process to organize real change. This moves our students from talk to action," Shaffer said.
Shaffer explained that the student dialogue isn't just about being respectful. It is about teaching students how to really name what an issue is at its core and what the factors that shape it are, define who the stakeholders and decision-makers are, and finally, address those who are sympathetic to the cause and those who are questioning it.
"Civil discourse is a disposition that includes rather than excludes, but it isn't passive. Civil discourse creates space for deep listening and engagement while also not leading to false consensus or complacency," Shaffer said. "There are weak and strong notions of civility. We're inviting students to think about this more robust form of civil discourse; it includes following ground rules and manners, but it also means engaging differences to deepen a sense of community."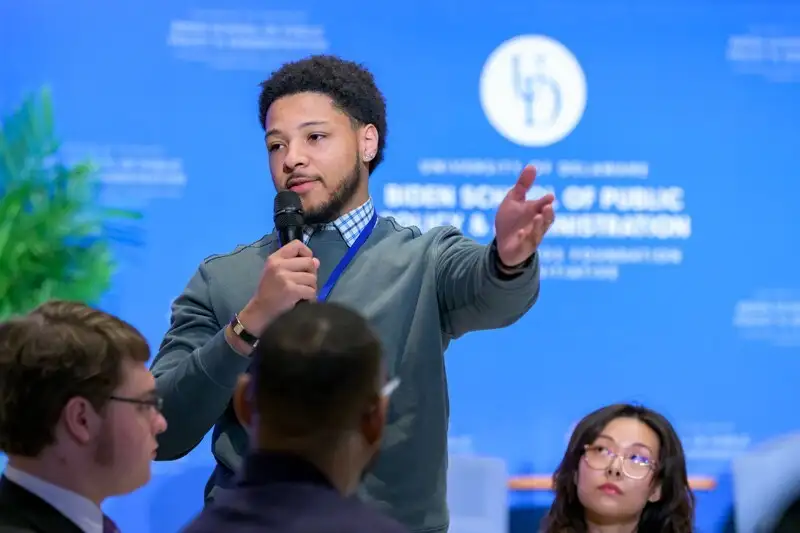 Logan-Alexandra Russell, a journalism major at Hampton University, said, "Through open dialogue, I was able to have productive conversations and debates as opposed to quips via social media. Being able to share my views and listen to others in a 'safe space' has allowed me to grow and develop my worldview and consider concepts I have not considered or thought of before."
The first SNF Ithaca National Student Dialogue, held in the spring of 2022, sought to inspire and equip students and administrators alike to return to their institutions with the knowledge and skills necessary to navigate conflict using civil discourse, as well as implement and adapt solutions based on their newfound experience. During the 2022 event, groups of students identified a civility challenge at their institution, and those groups with similar challenges brainstormed solutions, moving from campus talk to campus action. A group of students who participated in the 2022 event said the process they learned was so valuable that they took it back to their home institution and worked with campus administrators to include it in their new student orientation process.
"Universities provide wonderful moments for students to show up, look around and say 'who are these people beside me and what can I learn from them,' whether that is in the classroom, a residence hall or on a playing field," Shaffer said. "We're not asking students to become each other; rather, how do they live with one another, respect each other, and gain a sense of becoming who they are as a group? We're inviting them to recognize who they already are — democratic citizens in the broadest sense."
Shaffer said he hopes that the continued efforts of the SNF Ithaca Initiative will build a culture and community among college students, faculty and staff across the nation that will last long past their years in the classroom. "There's a stickiness to this work," Shaffer said. "We convene these groups, then they return to their institutions, discuss this work, and implement projects in their communities. Ultimately, we want these skills to follow students to their future careers as policy scientists, elected officials, non-profit leaders, and even in their day-to-day lives as citizens."
To learn more about the Biden School's SNF Ithaca Initiative and its work to unite college students in the spirit of civil, civic engagement, visit bidenschool.udel.edu/snfithaca.
About the UD Biden School
Established in 1961 and named in 2018 for the University of Delaware's most distinguished alumnus, the 46th President of the United States, the Joseph R. Biden, Jr. School of Public Policy and Administration prepares students with the knowledge and skills necessary to engage in research and public service activities to improve the quality of life in communities around the world. The Biden School's faculty, staff, students, and alumni create and use interdisciplinary, nonpartisan research, and empirically based analysis to inform effective decision-making and policy and to improve leadership and administration. The Biden School partners with organizations from all sectors to discover innovative and equitable solutions to the critical challenges of our time.
About the SNF Ithaca Initiative
In fall of 2021, the UD Biden School launched a civil discourse and civic engagement pilot program supported by the Stavros Niarchos Foundation (SNF). Called the SNF Ithaca Initiative, the program is named after the home of Odysseus — one of Greek mythology's greatest leaders whose talent for persuasive discourse was revered in ancient Greece. For Odysseus, Ithaca represents not only the beginning of a journey but the ultimate destination. Likewise, the SNF Ithaca Initiative will serve both as the beginning of our students' journey toward becoming effective citizens and as the ultimate destination for students from across the country to come together and develop the civil, civic engagement skills that will strengthen our democracy.
About the Stavros Niarchos Foundation (SNF)
The Stavros Niarchos Foundation (SNF) is one of the world's leading private, international philanthropic organizations, making grants to nonprofit organizations in the areas of arts and culture, education, health and sports, and social welfare. SNF funds organizations and projects worldwide that aim to achieve a broad, lasting, and positive impact for society at large, and exhibit strong leadership and sound management. SNF also supports projects that facilitate the formation of public-private partnerships as an effective means for serving public welfare. Since 1996, the Foundation has committed more than $3.5 billion through over 5,200 grants to nonprofit organizations in more than 130 countries around the world.