Though women have made significant strides in terms of representation and breaking glass ceilings in politics in recent decades, they remain underrepresented in elected office and policymaking. Why is this still the case and what can be done to boost the ranks of women in American politics?
A panel of experts and activists from across the ideological spectrum sat down in a virtual event last week with Brian Rosenwald, a political historian in the School of Arts & Sciences, to look at those questions, discussing the hurdles that remain for women in politics, as well as highlighting the efforts to overcome them.
The event, "Politics Unequal: The State of Women in Elected Office" was sponsored by the SNF Paideia Program—the hub for civic dialogue in undergraduate education at Penn—and the Red and Blue Exchange, which is committed to expanding the range of ideological and partisan perspectives to which Penn students are exposed.
Panelists included Molly Ball, national political correspondent for TIME magazine; Larissa Martinez, a co-founder of Women's Public Leadership Network and a political strategist; Erin Loos Cutraro, founder and CEO of She Should Run, a nonpartisan nonprofit promoting leadership and encouraging women from all walks of life to run for public office; Abbie Hodgson, director of The Ascend Fund, a collaborative fund dedicated to accelerating the pace of change towards gender parity in United States politics; and Valerie Dowling, who has worked in the political process from grassroots campaigns to the White House and is currently director of the Women's Democracy Network with the International Republican Institute.
Rosenwald opened the talk by harkening back to 1992, which was labeled "The Year of the Woman" after gains by women in the U.S. Senate and House races.
"In the three decades since then, we've seen the number of women almost triple and yet women are still only 27.85% of Congress, while being 50.5% of the population," he said. "What do we make of this? Is this a sign that we've had great progress, since the numbers have tripled since the year of the woman, or is it a sign that we look at and say, 'Hey, the glass is half empty, we're only at half of what we are in terms of the population,' and that there are still obstacles present?"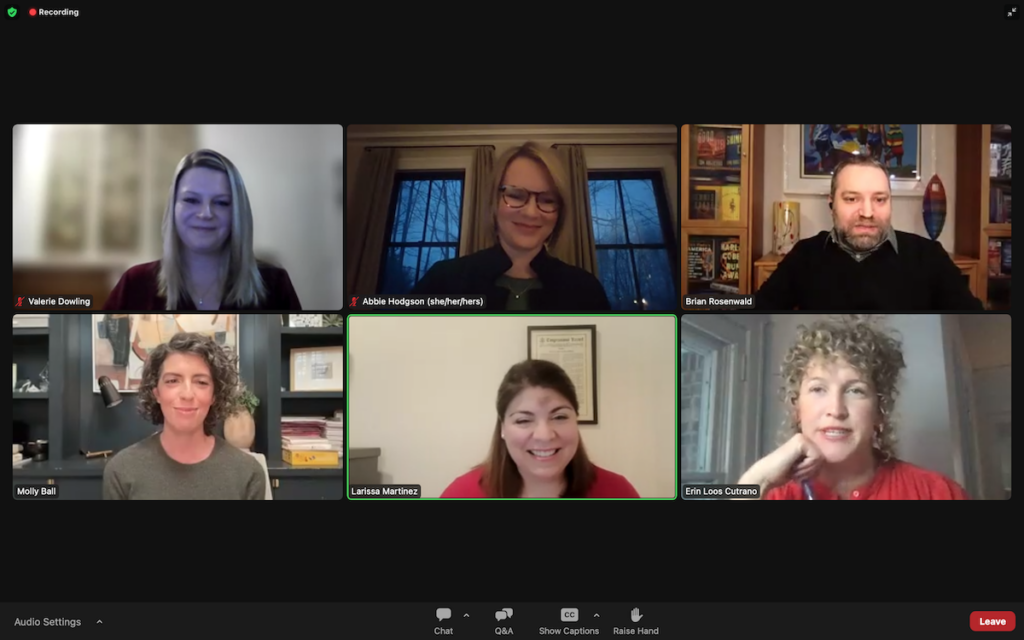 Loos Cutrano responded that people have to celebrate how far women have come, but the reality is that progress is slow.
"There is a lot more nuanced work that needs to continue happening for us to close that gap," she said.
The panel went on to discuss everything from the need to break down stereotypes to the challenges women face in fundraising and family obligations, to how the pandemic and the rise of Donald Trump led to more women getting involved in politics at all levels.
Rosenwald closed the discussion by asking the panelists what they see as the most important next moves to make to create parity for women in politics.
"What are the steps that are most important that can lead us towards a hopeful future?" he asked.
Loos Cutrano noted that She Should Run's research shows that what motivates a woman to run for office is encouragement from someone they really respect, a trusted source in their life.
"That is within all of our reach, for the women in our networks to plant the seed," she said. "While you may assume that they've received that encouragement … they probably need to hear it again, and coming from you, it's going to make a difference."
Martinez added onto that thought saying, "Once you've encouraged them, then support them. If you're going to spend $100 bucks on a pair of shoes, go make that investment in the person that's going to make policies that impact your life."
Dowling said she wanted to urge women to take the plunge and run for things like school boards and state legislatures, or even just sign up to work on a campaign.
"We just really need more women to say yes, to jump in to lead, and help pave the way for others," she said.
Ball agreed, "It creates a virtuous cycle, where the more women are in those positions, the more women can see themselves in those positions, and then the more women make themselves eligible for those positions," she said.
Women need to look at their political representatives and ask themselves if that person is the best one that they can envision to make decisions for them, Hodgson said. If the answer is no, it's time "to challenge some of the incumbents and step up and disrupt our political system in that way."
A recording of the event, "Politics Unequal: The State of Women in Elected Office," can be viewed on the SNF Paideia Program's YouTube channel.