What bubbles do you live in and how you can break free of them—or at least expand them? How does the household you grew up in shape your political views now? What's your No. 1 issue in this 2020 election, what do you want to see done about it—and what's the best argument against your position?
Although we came to the table with different backgrounds and beliefs, we were able to discuss important issues and ask thoughtful questions to keep the conversation going.
– Penn Student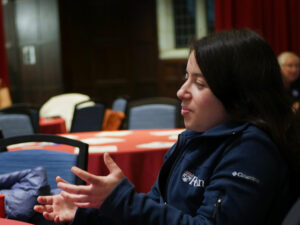 Ground Rules for Civil Dialogue
After a review of eight ground rules for the conversation and an ice-breaking exercise where students chatted with one another about the "multiple identities" that define who they are, participants dug into a sequence of questions about their values and views. The ground rules challenged them to listen well, ask good, clarifying questions of one another, and be willing to acknowledge gaps in their own knowledge and doubts about their own views.
How to Puncture Social Bubbles
A question about identifying and puncturing the bubbles in which people live generated some probing, candid discussions. Among the bubbles people identified were campus, race, class, income, hometown, field of study, political party, social media habits.
Differing views were presented in civil ways and discussed properly.
– Eastern U. Student
The students proposed a variety of strategies for expanding or getting outside comfortable bubbles:
Understanding how social media algorithms enforce bubbles and seeking to counter that.
Taking your headphones off and paying attention to what's around you as you walk or ride on your morning commute.
Speaking up and asking questions when you're in an unfamiliar place.
Being intentional about joining new organizations and visiting new places.
Suspending judgment when you meet someone.
Discussing Tough Topics Like Climate Change
Climate change got the most play during the table discussions of issues, followed by health care equity, income inequality, criminal justice reform, immigration, and gun violence. A meta-issue loomed over the discussion of all those issues. The students returned again and again to the relative merits of capitalism vs. socialism, with socialism defined by the young voters who espoused it as something similar to the Bernie Sanders/Alexandria Ocasio-Cortez program.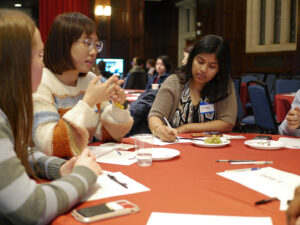 My takeaways: The value of questioning your own opinion. The value of fully listening without judgment.
– CCP Student
Here's a sampling of memorable points made during the issue discussions:
Presidential candidates too often deploy issues simply as "selling points," without delving meaningful into them.
There's not enough attention to "who loses out?" when a new program is proposed like Medicare for All or a standard income.
"How do I convince someone that another person's life is worth worrying about?"
Climate change is the "most pressing" issue of all, but it's frustrating how much false information gets poured out as reliable sources become less prominent.
If you believe in free enterprise and low taxation, but also believe morals matter, a choice between Donald Trump and Bernie Sanders is a very unappetizing one.
How do you reinstate the positive narrative about immigration that used to be the official story of America, but no longer is?
The amount of control that corporations exert over society is deeply troubling. Criminal justice is a good example. There is no way that private, for-profit entities should be running prisons.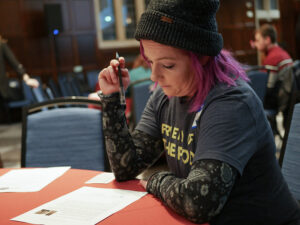 Based on self-descriptions on surveys, the students' political orientations ranged from "libertarian" through "conservative" and "liberal" to "socialist," with the left side of the political spectrum more amply represented.