The push to remove controversial statues around the United States gained momentum from the 2020 protests against the police murder of George Floyd. Statues associated with racist causes—most notably the Confederacy—toppled in cities large and small across the nation, and the movement spread to Canada, Great Britain, Belgium, and South Africa.
In Philadelphia, protesters focused on memorials to former police commissioner and mayor Frank Rizzo, and Christopher Columbus.
For landscape historian Jared Farmer, the historic iconoclasm of 2020 shows how arguments over the past are really arguments about the future, and provided a jumping off place for a new history course he taught in the fall: American Monuments: Designs for the Future.
"My goal was for students to understand this is a much bigger issue than Confederate monuments and to give them some historical understanding of the moment that they lived through," Farmer says. "I want them to gain a sense of hope and possibility that monuments can be so much more than bronze statues of white guys on horses," he says.
The course started with the making of the U.S. memorial landscape in the 19th century, and ended with a deep dive into Philadelphia's memorials, past and present, and students' visions for local monumental futures.
"I wanted [students] to come away knowing about the city where they chose to spend a formative part of their life. All Penn students ideally should leave here knowing something about Philadelphia…" – Jared Farmer
The class was affiliated with the Stavros Niarchos Foundation (SNF) Paideia Program, which serves as a hub for civic dialogue in undergraduate education at Penn. SNF Paideia courses offer an interdisciplinary civic education that highlights the role that civil discourse, dialogue across difference, and wellness play in cultivating integrated citizenship within the Penn community.
"A lot of Penn students don't know much about Philadelphia history, and living on and around campus can be a bubble," Farmer says. "I wanted them to come away knowing about the city where they chose to spend a formative part of their life. All Penn students ideally should leave here knowing something about Philadelphia, and that citizenship component of the class really lines up with the Paideia program."
Monuments, both new and reimagined
The course was divided into three parts: built monuments, like the statue of George Whitefield formerly at the Quad; hidden or unintentional monuments that acquire meaning and memory over time, like the Rocky Steps at the Art Museum; and memory works, which involved students themselves proposing a new monument or reimagining an existing one. Students had the option to create projects in various media: reports, videos, podcasts, and StoryMaps.
"These students are part of a generation of citizens who must rethink what it means to make a monument in public and what all the possibilities are for public monuments—representational or abstract, permanent or temporary, three or two dimensional, material or immaterial, even virtual and augmented realities," says Farmer. "We have to get beyond the box of the bronze statue, which is such a limiting view of what a monument can be. Human beings had been making monuments for thousands of years before the statue on a pedestal, and will be making them long after that phase is over."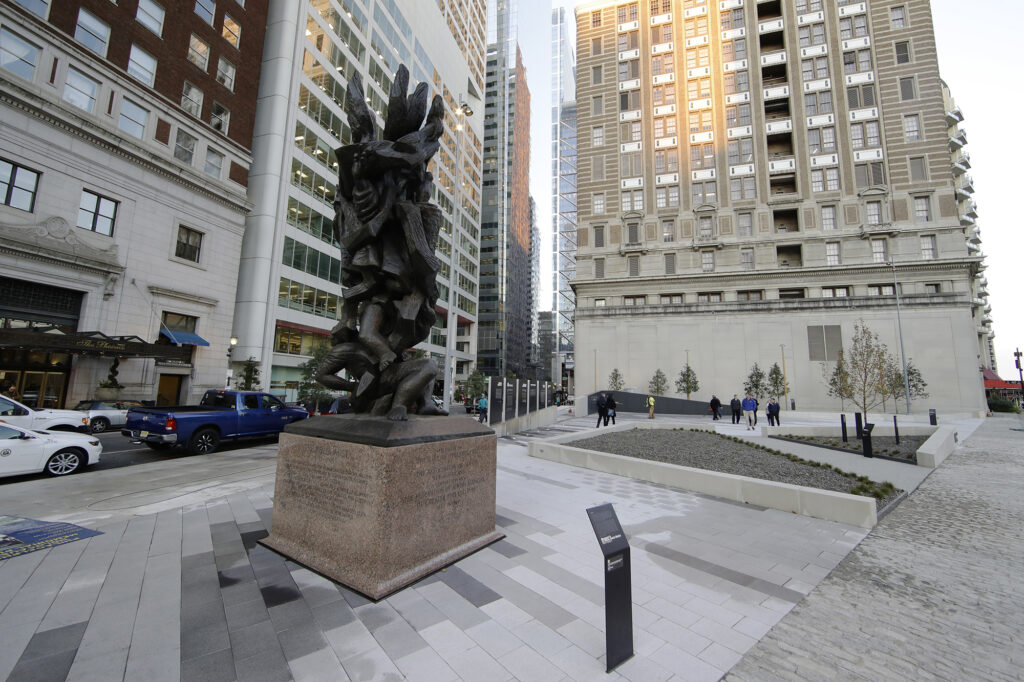 The end result of the class is now viewable on a website called Philamonuments, where readers can peruse projects grouped in three sections.
Projects on built monuments looked at everything from classical statuary around Philadelphia to the city's "Monument to Six Million Jewish Martyrs," America's first Holocaust memorial.
For Harrison Selznick, a junior from Las Vegas majoring in biology and minoring in history, focusing on sports monuments around Philadelphia was a no-brainer for his first project.
He created a StoryMap that catalogs 70 sports monuments in Philadelphia County in three categories: murals, statues, and historical markers. Using his interactive maps, viewers can check out murals of baseball legend Jackie Robinson and Sixers icon Dr. J, then make their way to statues of Phillies Hall-of-Famer Mike Schmidt and ex-heavyweight champ Joe Frazier, then wrap up at a marker on campus highlighting the Penn Relays.
"As someone who loves sports, I found it super interesting," Selznick says.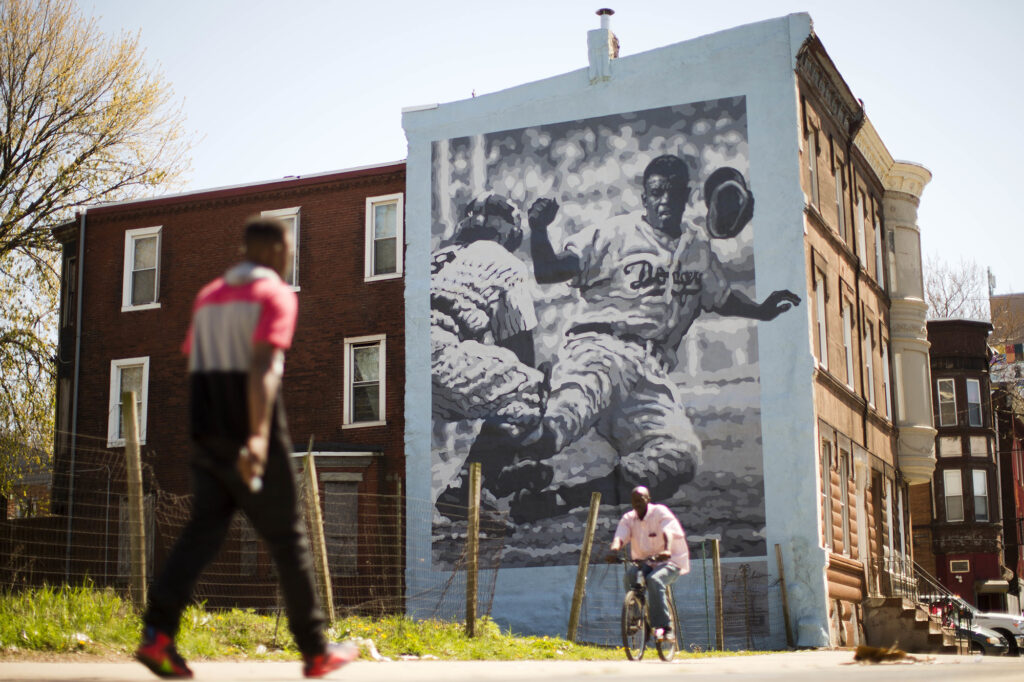 For the second project on unintentional monuments, students focused on diverse places such as Delaware Avenue and its alternative name, Columbus Boulevard; and Eastern State Penitentiary in its transformation from prison to museum.
For many of the students, their third project, conceiving their own memory work, was their favorite. Bridget Brody, a senior majoring in psychology from Westchester, New York, made a podcast about the Locust Walk Compass, its legendary power over midterm exams and how the pandemic affected the tradition of walking around it. Jaden Cloobeck, a senior majoring in psychology from Laguna Beach, California, created a website cataloging the pandemic's effect on Penn's performing arts community.
For Kai Burgmann, a senior from Berkeley, California, pursuing a double major in international relations and history, the third project was the most rewarding but also the most challenging.
In the end, he decided to propose a monument to thank the food truck workers who dot Penn's campus. He sees them not just as essential workers and members of the community but also a piece of the landscape, an important visual part of campus.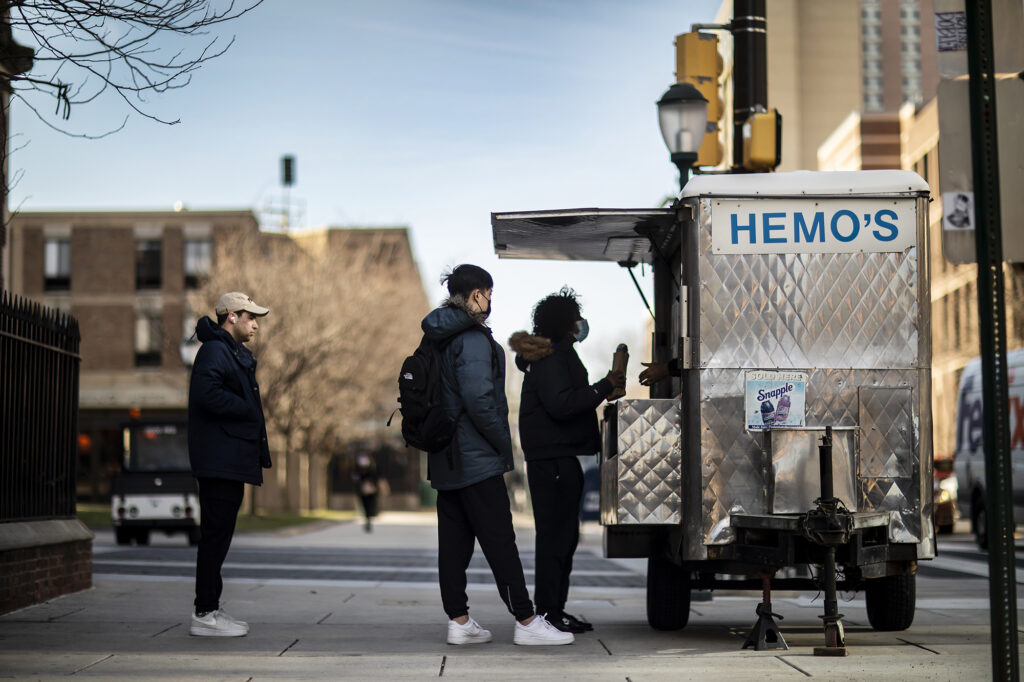 "Food trucks suffered greatly during the pandemic. They took a huge hit, not to mention the fact that the city ramped up regulations on food trucks in Philly," he says. "Given the fact that they've had such a tough year, they're back and they're still serving students and engaging with the community, I think it would be really smart to have a monument dedicated to them." He proposes a plaque or engraved stone on the ground in front of the Wharton Academic Research Building.
A course that upended expectations
Students who took the course agreed they weren't quite sure what to expect when they enrolled; many said they thought it would be an important but maybe dull look at Civil War monuments around the country. Instead, they found an intimate class that looked at society, community, and history, and that let them participate in class and research in ways some never had before.
"Going into the class, I thought it would be about America and American monuments, but it's really about Philadelphia's monuments and how we remember this place," says Cloobeck. "I learned so much about the city that I would not have learned otherwise."
For Rachel Goldstein. a senior in the Wharton School from East Lyme, Connecticut, studying healthcare management science, the small size of the class made it one of the most unique and beneficial learning environments she's experienced at Penn.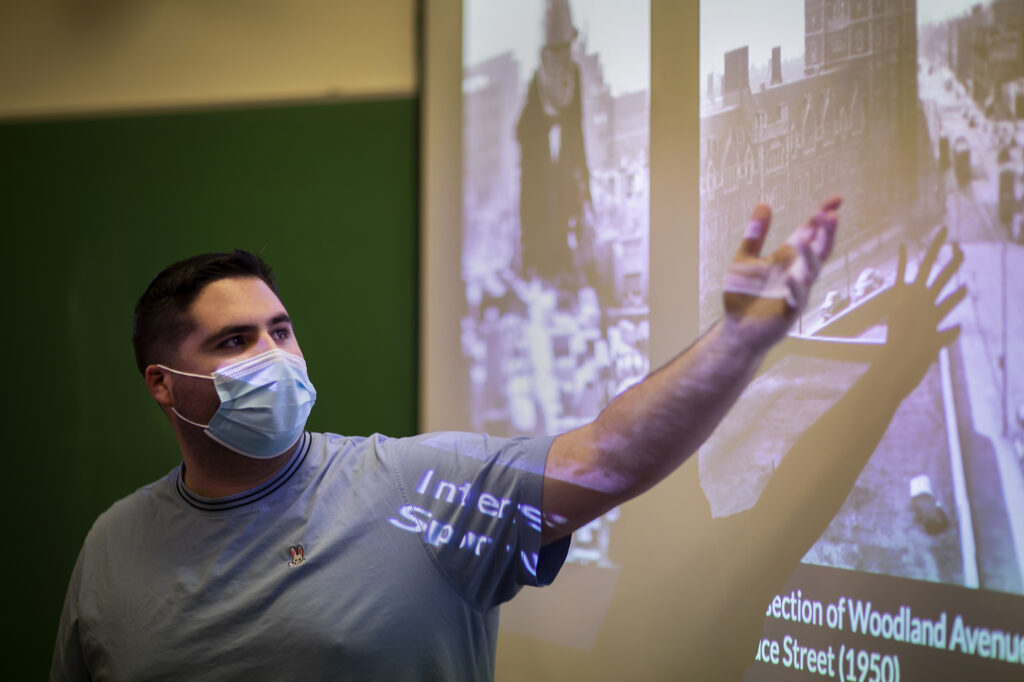 "It was the smallest class I've ever taken at Penn, and I loved how the professor and the TA were both so involved in our work. It was such a different structure than most other classes I've taken, which tend to be more discussion-focused," she says. "I really wanted to learn not just the material, but I also wanted to learn from my peers in a way that I haven't before. It was a big draw and huge benefit."
Rather than focusing on lectures, the course brought in eight guest speakers, including Inga Saffron, the architecture critic at the Philadelphia Inquirer; street art blogger Conrad Benner; Ph.D. students VanJessica Gladney and Paul Wolff Mitchell who worked on the Penn & Slavery Project; and Paul Farber, Penn alum and director of Monument Lab.
"That was a new experience for me because I've been in a lot of classes and I've had maybe one guest speaker come in for one lecture. But this was less of a speech from the guest speaker and more of a discussion where we would sit in a circle and ask questions of these people who showed the diversity of the study of monuments," says Burgmann. "Each time we had a speaker I felt like I learned a ton and it made me much more excited about the class. It was super fascinating to learn about this topic from actual experts in their respective fields."
The hands-on research aspect of the class, and the invitation to create innovative projects beyond the standard research paper was also an unexpected benefit for many students.
"It was really different from any other class I've taken, in that a lot of what I was researching was not easily accessible. It was interesting to have that challenge of digging deep into archives, calling places and interviewing people to hear firsthand about what was going on in the areas we are studying. It was definitely a special experience to get to have in a class," says Brody.
For Zachary Leder, a senior majoring in history from Long Island, New York, this was the type of class where attending in-person was particularly beneficial.
"After being in 'Zoom University' for a year-and-a-half, this is definitely the type of class where in-person versus online makes a world of difference," he says. "We all encourage each other to speak up and not be afraid to share our personal opinions, which is especially important in such a small class. This experience being in person felt so much more valuable."
For Cloobeck, the class highlighted how monuments matter.
"It can be easy to brush off a monument and say 'Oh, it's just a piece of stone.' But as we learned in this class, monuments are the stories and the values that our community is projecting. What are we saying that we value?" he says. "That connection between monuments and memory, how we remember the past, how we remember ourselves, and how we remember others is my biggest takeaway."