Spirits were high Tuesday morning as Penn President Liz Magill stopped by her new polling place at Houston Hall to cast her first General Election vote in Pennsylvania. A team of students from Penn Leads the Vote (PLTV) greeted Magill and others at Penn Commons, helping voters determine their registration status while handing out La Colombe draft lattes, Lil Pop Shop goodies, and customizable "I voted" buttons.
"It's been really energetic," said Wharton senior Tvisha Malik, tabling coordinator for PLTV, a student-run, nonpartisan program housed within the Netter Center for Community Partnerships and supported by Penn's Office of Government and Community Affairs (OGCA) and Fox Leadership. "I've already seen way more people than I've expected, and everyone is excited to be here and to exercise their right to vote."
Polls in the Commonwealth opened at 7 a.m. and closed at 8 p.m. The offices on the ballot were U.S. senator, governor and lieutenant governor, representative in Congress, and representative in the Pennsylvania General Assembly. Philadelphia residents voted on two ballot questions, and some residents also cast ballots in a special election for two City Council At-Large seats.
Discussing the stakes of such an election, especially in a swing state, Malik, originally from Houston, Texas, said, "now more than ever is an opportunity for young people at Penn to get involved."
"Pennsylvania might come down to less than 5,000 votes, and there are more than 5,000 students here at Penn," noted Malik. "It is so clear that the opinions of the people in our generation matter. We are electing what the Senate looks like, and they're going to be making policy decisions for everyone. It's a pretty heavy responsibility when you think about it, because you're not just voting for yourself. You are voting for the country that you want to live in and that you think other people should live in."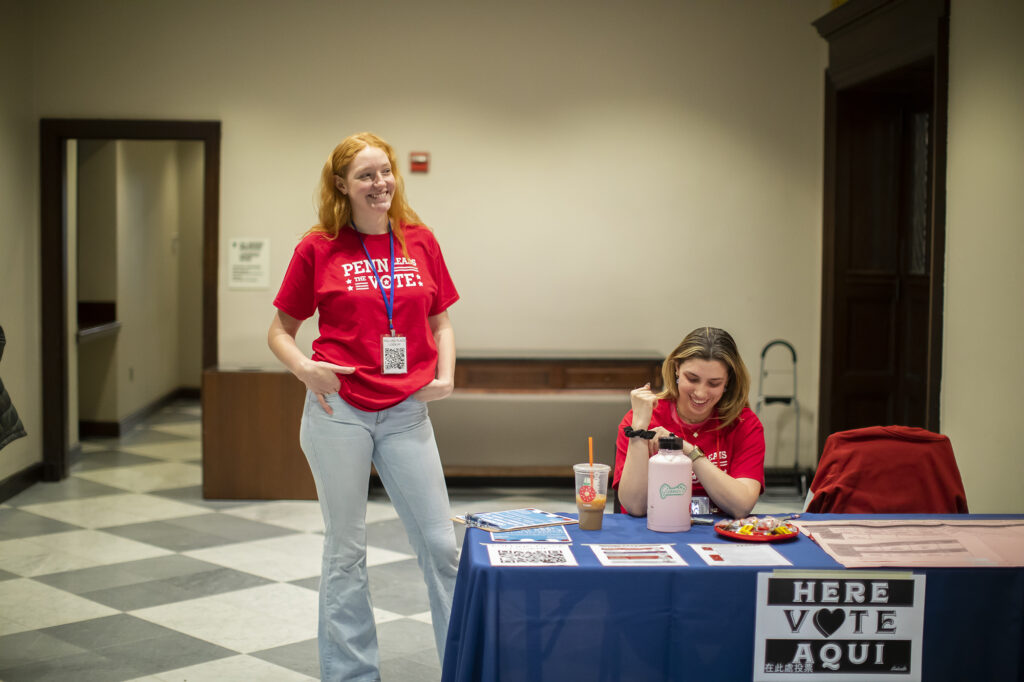 Elizabeth Ford, from Glenview, Illinois, got involved as a volunteer with PLTV her sophomore year at Penn. The communication major, now a senior serving as PLTV's co-deputy director, said she's grown to really appreciate and advocate to other students the "true privilege" it is to be able to vote right on campus, and in many cases, just a few steps from their college houses.
"We have such easy access to voting," she said, adding how college provides for many a foundation in civic engagement. "This period of college student life is so formative, it's important we build this campus of citizens now because that's something they'll put into practice later. For me it's about the legacy that the work this election could do for those voters and my peers for life."
After volunteering at Houston Hall with her PLTV crew, Ford planned to vote at her polling place, Walnut Street West Free Library, with her Penn Women's Volleyball co-captains. And in the name of the "All Vote, No Play" movement, Ford and her volleyball teammates were setting up a different Get out the Vote table—handing out free pizza—with other Penn athletes outside of The ARCH building on Locust Walk.
"Student athletes are regarded as leaders on campus, and they have an opportunity to be an influence here," Ford said. "So it's important we are exemplars in civic engagement."
Students and staff at Penn, even those not actively engaged with PLTV, also got involved locally on Election Day, in large part thanks to OGCA, which supports 10 polling places on campus. Graduate Student Center Director Meredith Wooten served as judge of elections at one of the polling sites inside Houston Hall.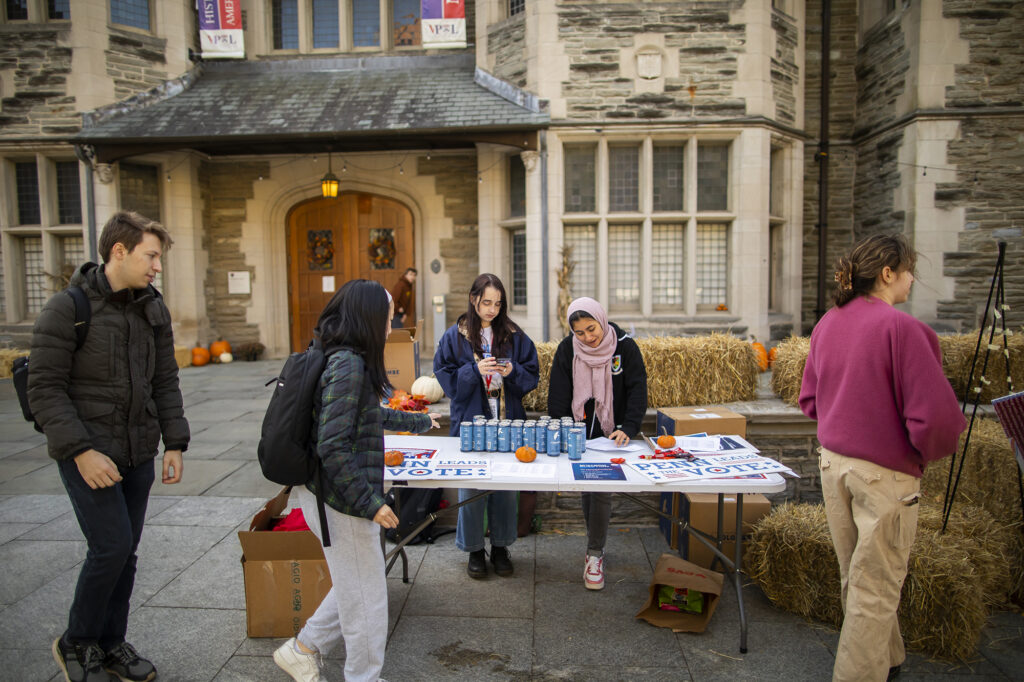 "I've been doing this since 2020," said Wooten. "It's an easy form of civic engagement, a way to give back to the community."
Wooten said she especially appreciates the opportunity to work alongside colleagues and students she normally wouldn't cross paths with at the University, as well as those from West Philadelphia.
It was a similar draw for Lynn Larabi, a junior political science and anthropology major originally from Northeast Philadelphia. Larabi, also part of the SNF Paideia Program, worked at the polling place at Walnut Street West as majority inspector.
"It's not every day that you get to be involved with the civil inner workings of democracy or of the voting system," she said. "It's cool to be in a position to ensure that people's votes count."
Larabi's favorite part?
"Everyone leaves with a smile, regardless of what their political affiliation is," she said, without hesitation. "It is a big thing to be celebrated: They are thinking, 'It's a good day to be an American, because I can vote.' I really enjoy that energy."