When Michael Delli Carpini walked through the Walnut Street entrance of the Annenberg School in July of 2003, there was a small staff delegation waiting to meet him. Facilities manager Deborah Porter stepped forward with some news: it had rained the night before, and water had leaked into the Annenberg School for Communication's basement, damaging some boxes.
Delli Carpini's first thought: "Why are you telling me this?"
And then it dawned on him that this new job he had taken, Dean of the Annenberg School, was not just about educational excellence and cutting edge research. Sometimes, there were leaks in the basement to be dealt with.
Fast-forwarding through his 15-and-a-half years as dean, Delli Carpini handed the reins over to Dean John L. Jackson, Jr. in January of 2019, took a sabbatical, and then moved into an office on the third floor faculty wing. On July 1 of this year, he quietly took another step in his career: he retired as the Oscar H. Gandy Emeritus Professor of Communication and Democracy.
Faculty often avoid the word "retirement," but Delli Carpini isn't, embracing the freedom to work on his own terms. He will remain faculty director of the SNF Paideia Program at Penn for the next two years — a role he took on in July, 2019 — and continue to serve on several non-profit boards. And then he is looking forward to spending the rest of his retirement reading, writing, and following his curiosity.
Life as Dean
Even though it was hard work, Delli Carpini says, serving as Annenberg's dean was exciting and fulfilling. He had the opportunity to meet public figures, ranging from Sandra Day O'Connor and Kofi Annan to Jodi Foster and Bono. He traveled to places he never thought he would go: to Budapest with Monroe Price, and Beijing and Shanghai with Guobin Yang. He led a faculty group to Havana, Cuba to attend a conference and meet with academics there.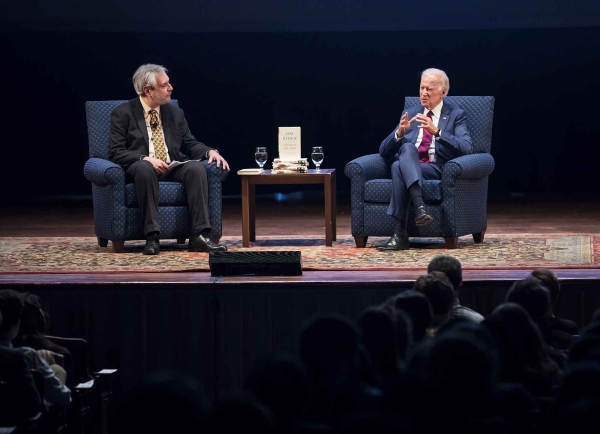 The endowment generously given by Walter and Leonore Annenberg also gave him a flexibility not available to many other deans.
"We are an incredibly resource-rich institution, which allowed me to make decisions largely based on the quality of the ideas, rather than having to say, 'That's a great idea, but we don't have the resources to do it,'" he says. "It also allowed me to keep my identity as a scholar, teacher, and mentor."
But above all, being dean gave him a unique opportunity to shape an institution.
Building the Faculty and Staff
Faculty serve as the backbone of any academic institution, and new hires deeply influence an institution's future, making them a key priority for any dean.
Annenberg had long been known for having a world-class faculty, with many well-established scholars who were senior in their fields. As retirements made room for new faculty, Delli Carpini had the opportunity to influence the hiring of a strong junior faculty while making strategic senior hires.
"The question becomes, 'How do you build a new faculty and do it at a pace where we don't skip a beat? Where we're as good or better in terms of teaching, research, and service?" says Delli Carpini. "I'm really proud of how we did that. We continue to have what I consider to be the best communication faculty in the world."
Communication is a discipline that, by necessity, changes quickly with the times. Delli Carpini was keen to ensure new hires would help Annenberg expand into emerging and growing areas.
For example, Monroe Price, Marwan Kraidy, and Guobin Yang helped build the foundation of Annenberg's global communication studies, an area in which the school had historically been weak. As it became clear that digital media were ascendant, hires like Damon Centola, Sandra Gonzàlez-Bailón, Jessa Lingel, and Julia Ticona helped put ASC at the forefront of research and teaching in this area.
At the same time, Delli Carpini built on Annenberg's traditional strengths in health communication with the hiring of Emily Falk and Dolores Albarracin, media institutions, with the hiring of Victor Pickard, and political communication, with the hiring of Yph Lelkes and the joint tenuring of Diana Mutz in political science and ASC. He is also proud that ASC's current dean, John Jackson, was hired during his watch.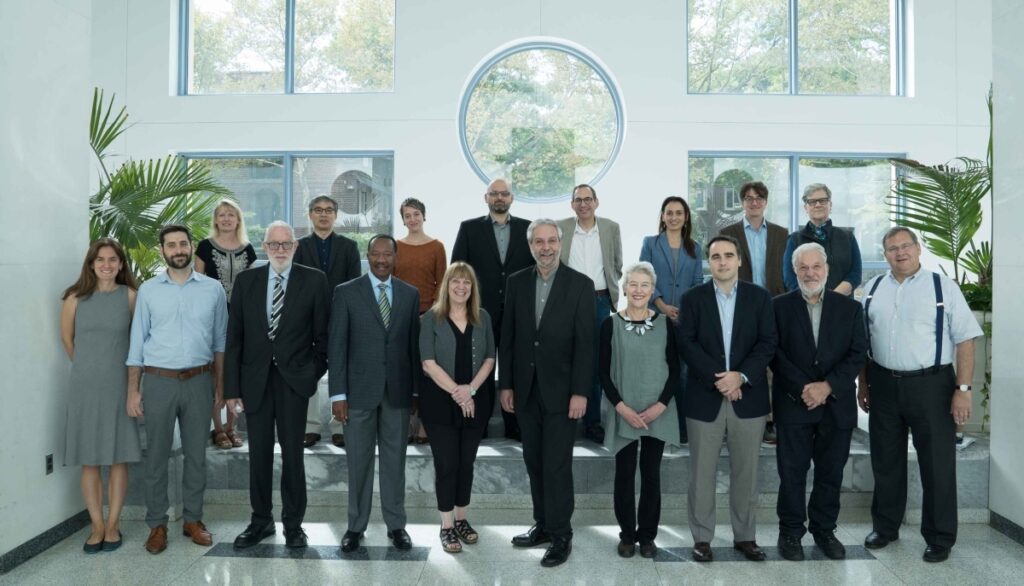 "The new faculty brought a range of different substantive and methodological perspectives to what we do," says Delli Carpini. "I can remember being excited about having new voices at faculty meetings and admiring the way different faculty approached the issues that we dealt with."
Supporting the work of ASC's faculty and students requires a top-notch staff. Delli Carpini noted this, saying that in his many years in various administrative roles he had never worked with a more talented or committed group of people. "They often do not get the credit they deserve, but ASC would not be the great institution it is without them."
Renovation and Expansion
Annenberg's footprint also grew and adapted to the school's needs, nearly doubling in square footage. Major additions and renovations included the first floor classrooms and the plaza above as well as the library.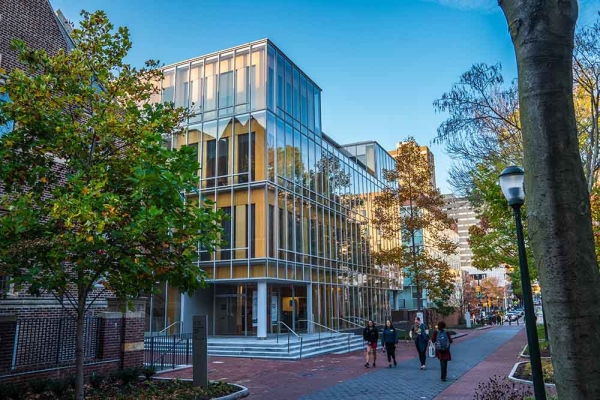 Delli Carpini gives former dean Kathleen Hall Jamieson all the credit for fundraising to build the new 55,000-square-foot Annenberg Public Policy Building, which opened in 2009, and was proud to be part of overseeing its construction. He still holds on to the hard hat that he used on the construction site.
"The whole process of having a new beautiful building associated with the school was really satisfying," he says.
Promoting Diversity
Delli Carpini is also proud of pushing the Annenberg School in diverse directions, broadly-speaking, from the demographics of its faculty, students, and staff to the fields from which the faculty hail and the different methodologies they employ.
As a first generation American and college student who grew up during the civil rights and women's movements, Delli Carpini says the importance of social justice was ingrained in him from a young age. He is also aware that there was a time when Italian Americans like him were labeled as "racially suspect," and he personally experienced the feeling of certain doors not being open to him.
He sees the need to open Annenberg's doors to historically marginalized groups not just as the fair thing to do, but also the best thing for the school.
"People who bring different personal, cultural, and group experiences to the table affect what we study, how we study it, and the kind of assumptions we make," he says. "Diversity of experience just makes for a better and more exciting environment. I believe it at my core."
Difficult Moments
It goes without saying that there are difficult moments in the course of any deanship. For Delli Carpini, the 2007-08 economic downturn was one of those experiences.
"For three or four years, it was challenging to keep our budget balanced without slowing the momentum we had built or negatively impacting the quality of our educational and research missions" says Delli Carpini. "I'm pleased that we were able to do this with minimal disruption to our faculty, students, and staff."
And while numerous scholars received tenure under Delli Carpini's deanship, he regrets that some did not. "The hardest thing I had to do in all my time as dean was to meet with very good scholars, people that I had come to know personally, and tell them that they were denied tenure."
But he also has great memories of the happy times, like graduation ceremonies.
"I always come away from graduation ceremonies with a renewed energy for why we do what we do, and how well we do it," he says. "It can also be a reminder that each of our students has their own personal story with struggles and successes. Earning a Ph.D. means a lot, not only to them, but to their families and loved ones."
Leaving Campus…and Coming Back
After stepping down as dean, Delli Carpini continued as a Professor of Communication on the Annenberg faculty. But with two sabbaticals deferred, he planned to use them to travel, read, and write. He spent a month as a visiting faculty member at Leuven University in Belgium, and was able to take some two-week vacations, including a National Geographic whale watching expedition along the Baja Peninsula of Mexico.
He was enjoying not being on call 24/7 the way he was as dean, but then an invitation from then-Penn President Amy Gutmann changed his plans.
With the support of the Stavros Niarchos Foundation, Penn was interested in developing an undergraduate program that would provide students the tools and experiences to facilitate dialogue across the many divides we have in the United States and around the globe — race, class, religion, and politics, to name a few.
Gutmann thought that Delli Carpini — someone whose research has focused on both civic and political engagement as well as deliberation and dialogue — was the perfect person to serve as the inaugural faculty director for what became the Stavros Niarchos Foundation Paideia Program, or SNF Paideia for short.
He accepted, and has spent much of the last three years developing the program, which is beginning its fourth academic year, with 30 designated courses across the curriculum open to all Penn undergraduates and its third cohort of Paidea Fellows entering a more structured three-year program.
Looking to the Future
Now beginning year four of a five-year commitment to Paideia, Delli Carpini can see a fully off-campus future on the horizon.
"I jokingly say that I've been reduced to writing the introductions and conclusions to other people's books," he says, "which is something that happens to you when you've been in the field for a long time, especially for those of us who have taken on administrative responsibilities. I'm looking forward to having the time to return to my own research."
While Delli Carpini doesn't have a specific project in mind, he wants to return to the themes of his 1996 book with Scott Keeter, What Americans Know About Politics and Why It Matters. In it, they argued that an informed public was a necessary though not sufficient component of a well-functioning democracy..
Newer research and political events have suggested there are real limits to this idea.
"People have such great ability to twist information around to suit their prior beliefs that political knowledge is arguably either not as important as we claimed or not attainable," says Delli Carpini. "I want to address whether that's true or not and what it might mean."
But most of all, he's keen to follow his curiosity wherever it leads.
"I want to read, write, and think: the kinds of things that you imagine you're going to do when you become an academic in the first place," he says.
Spending the better part of 20 years at Annenberg is something Delli Carpini looks back on with satisfaction and no regrets.
"My dad used to say that you should always leave a place a little better than how you found it," he says. "I feel like I did that during my time at Annenberg."