he day following a tense Presidential election seems like a tough time to teach any sort of class yet perhaps, also the perfect moment to learn about grit.
"I'm mindful that today's an unusual day," says Penn psychologist Angela Duckworth, to a Zoom room of 80-plus undergraduates and teaching assistants. "However you voted, however you feel—and you probably don't all have the exact same views—it's an emotional day. Thank you for being here."
With that, she dives into a lesson about the difference between character and ability. "In today's lecture, we're going to talk about both," says Duckworth, the Rosa Lee and Egbert Chang Professor in the Department of Psychology. "Part of developing grit is finding something that you're good at."
Students anonymously record their mood via a phone-based survey tool, which auto-populates a real-time grid they all see, then Duckworth answers questions they've raised in the week since last class. She asks them to think about how they define "talent" and to rate their own. Then after a short break, Penn president Amy Gutmann joins as the honored grit guest. "I can't think of a time in my life when the need to understand and practice grit has ever been higher," Gutmann begins, before responding to student queries about particular strengths she's been able to apply to her work at the University and beyond.
Those three pillars—an interactive section, a lecture, and a conversation with a gritty person—make up the core of Duckworth's Grit Lab, a course running for just the second time this semester. It's part of the SNF Paideia Program, whose classes strive to teach wellness, citizenship, and service, in addition to broadening intellect. Given Duckworth's reputation as one of the country's leading scholars in this field, it's no surprise that hundreds of students applied to take the course, open to all four undergraduate schools, focused on important life skills. It will run again this spring.
The emergence of Grit Lab
"Grit is a common denominator of high achievers across very different fields," says Duckworth, who has researched the subject for a decade and a half, including for her doctorate at Penn. "I have been wondering since I started studying grit, how could you help a young person develop more passion and perseverance for long-term goals?"
That thought didn't translate into a class until a hedge fund manager asked Duckworth to help him make his company grittier. She turned down the offer, refusing because she felt she didn't know how to teach it. "He pointed out that if I've studied something for 15 years, I should be able to," she recalls. "That's when I started to create a course to give Penn undergraduates the opportunity to accelerate the development of their passion and perseverance."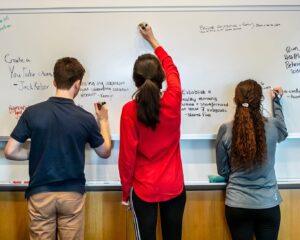 Early on, she tapped Paolo Terni to help. Under Duckworth's tutelage, Terni had earned a degree from Penn's Master of Applied Positive Psychology program and is now research project manager and senior scientist in the Duckworth Lab. "She said to me, 'Let's try to use everything we know about learning and behavior change to teach students about grit and help them form the habits of gritty people,'" he says. "By doing that, they can learn a useful set of skills that can naturally help their own careers but also their own self-exploration."
Around the same time, the University received a $6 million gift from the Stavros Niarchos Foundation to start the SNF Paideia Program. Grit Lab became one of four inaugural courses, along with a civil dialogue class taught by Harris Sokoloff of the Graduate School of Education, one on rhetoric and community with Jeremy McInerney of the Department of Classical Studies, and one on American Chinatowns co-taught by Kenneth Lum of the Weitzman School of Design and Chi-Ming Yang of the Department of English.
Juniors Surayya Walters and Connor Gibson both took Sokoloff's course in the spring of 2020, and the experience prompted each to apply for a spot in the next Grit Lab.
"I was hoping the class would help me uncover my true passion," says Walters, from New Rochelle, New York. "With grit, you can have all the perseverance in the world, but if you don't have passion, you will not be able to achieve your goal. I'm hoping I can be more intentional with goal setting."
It doesn't hurt that Duckworth is something of a celebrity. "Professor Duckworth is one of our superstar faculty," says Gibson, of Ebensburg, Pennsylvania. "I'd read her book about grit and I was curious to learn more. I was hoping I would learn the skills, strategy, and mindset to become a grittier person."
Adjusting for the pandemic
At the start of the first Grit Lab semester, few in the United States had heard of COVID-19 and no one knew the world was about to experience a global pandemic. As Duckworth had envisioned it, the class would begin with the idea of passion, helping students to home in on something that could become what she dubbed a passion project.
"One of the major sources of apprehension and angst for Penn students is what they are going to do after Penn," she says. "We decided to focus on the exploration of their interests, values, social problems they think are important." The first five weeks, students would learn about what it meant to be passionate and select their project, which they'd commit to developing the remaining eight weeks, during the perseverance half of the course.