Over the summer an international consortium led by Penn's Netter Center for Community Partnerships co-hosted a global forum in Dublin, Ireland, where participants from 40 nations looked at higher education's role in constructing a more equitable, sustainable, and democratic world.
"Higher education institutions powerfully shape the learning, values, and aspirations of students from kindergarten through graduate school," said Ira Harkavy, who chairs the International Consortium for Higher Education, Civic Responsibility and Democracy and is founding director of the Netter Center. "To put it simply, without democratic higher education, there would be no democratic schooling and no democratic societies."
At the end of the two-day forum, the participants concluded that higher education institutions are anchors for democracy.
Inspired by this takeaway as the midterms approach next week, Penn Today asked experts from across the University to share their thoughts on how their areas of expertise and research, and their departments and centers play a role in fostering democracy.
Michael X. Delli Carpini, faculty director of the SNF Paideia Program; Oscar H. Gandy Emeritus Professor of Communication & Democracy; dean emeritus of the Annenberg School for Communication
At its best, higher education provides students with the knowledge, skills, values, and experiences to live productive and fulfilling professional, personal, and civic lives. Too often, however, these goals are seen as discrete, with professional development taking precedent. The mission of Penn's SNF Paideia Program is to integrate these seemingly distinct identities—to educate "the whole person"—in ways that connect individual well-being to collective well-being and self interest to the public interest.
SNF Paideia focuses on the important role that dialogue across ideological and cultural divides can play in addressing public issues, building community, and providing the intellectual and ethical foundation for democratic citizenship. We do so through a combination of SNF Paideia-designated courses that are offered across the humanities, social sciences, and sciences and open to all of Penn's undergraduates; a Fellows Program that provides a more structured and immersive experience for smaller cohorts of Penn students; sponsored and cosponsored lectures, workshops, and forums that address timely issues while modeling constructive dialogue; and initiatives that focus on more specific forms of democratic engagement and public problem-solving.
Responsible and responsive democracy requires citizens that are willing and able to engage with each other and its leaders in informed, robust, and productive ways. It also requires an understanding that well-intentioned people can legitimately disagree on how best to address the many difficult problems we face, or even what those problems are. Developing such citizens—local, national, and global community members whose civic identities are reflected in all aspects of their lives—should be a central goal of higher education.
John S. Lapinski, faculty director of the Fox Leadership Program, Penn's Program on Opinion Research and Election Studies and the Fels Institute of Government in the School of Arts & Sciences
American democracy is in crisis. Large numbers of people no longer trust their government, and many don't believe in the integrity of the electoral system. Polls are inaccurate largely because of the lack of cooperation of certain types of people who will no longer take them. These are pretty big problems for our nation, and universities have the type of people, including students, faculty and staff, who can tackle these sorts of issues.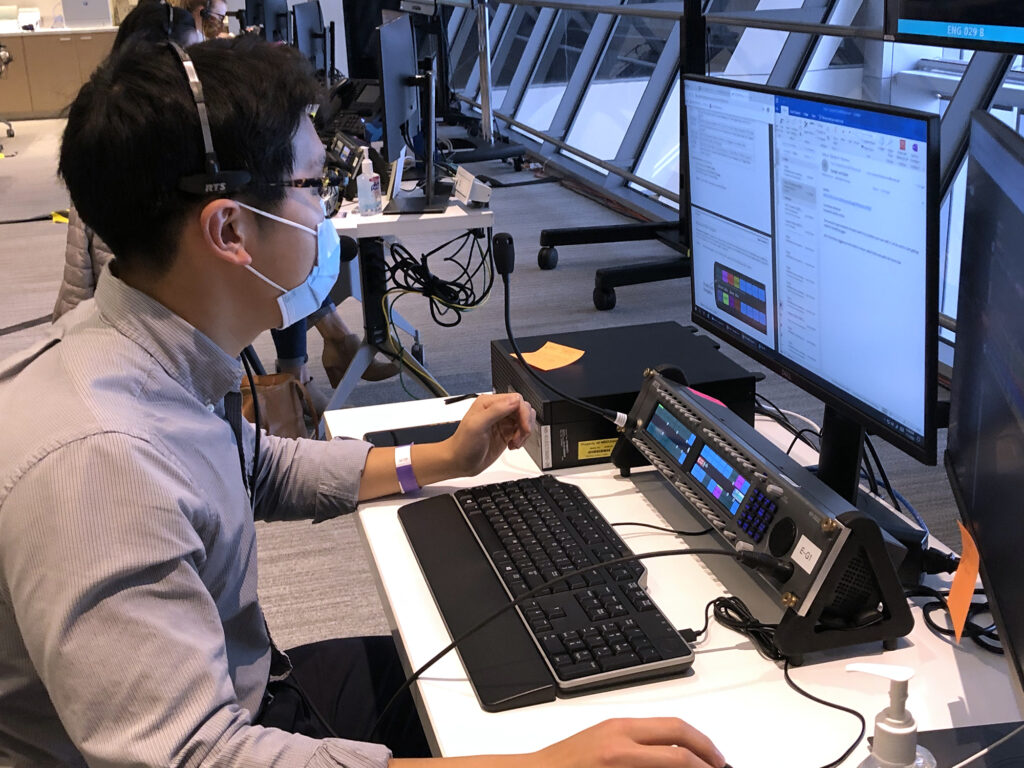 The Fox Leadership Program and PORES provide students with experiential learning opportunities to work on projects related to the health of America. In giving students opportunities to work alongside world renowned experts on elections, we also are training the next generation of leaders in the field.
This election cycle, Fox and PORES have been engaged in two new, large-scale research projects that hopefully will pay dividends down the road. The first is a very large-scale effort to improve election polling and better understand what is wrong with polling. The project is tied to a class being taught in the Survey Research and Data Analytics minor, so students are immersed in the research. In addition, PORES is collaborating with the MIT Election Data Science Lab to work with state election officials to improve the quality of their vote count operations in a project supported by the Pew Charitable Trust.
Of course, Fox and PORES affiliates also work on the Decision Desk at NBC News, including 16 Penn undergraduate students who will be a few of the only college students in the country to get firsthand experience in helping the team that projects elections and conducts and analyses exit polls during election week—what used to be known as Election Night.
Sophia Rosenfeld, History Department Chair, Walter H. Annenberg Professor of History in the School of Arts & Sciences
There's an old saying that those who don't know history are destined to repeat it. I don't believe it. But I do believe that the study of history gives us essential tools for understanding what is happening around us and for considering where we want to go next. As a historian of democracy, I am firmly committed to the idea that both the discipline of history and the university as an institution play a vital role in sustaining democracy.
Many historians study how societies come apart—revolutions and civil wars, for example. A few of us explore what holds societies or states together. In the case of democracy, the glue is partly a small number of basic, shared convictions that are so commonplace, even banal, that we don't much notice them until they are in crisis. One is an agreement that we all need to play by the same basic rules, no matter our differences of opinion. Another is a commitment to factual, demonstrable truths, and to truth-telling, again despite our often-ferocious disagreements about what to do about those truths. A third is a sense of solidarity with others, or the feeling that we share enough as humans that the fates of other people matter to us even when we don't know them or necessarily admire what they stand for.
In the summer of 2021, a group from the Penn Graduate School of Education and the Netter Center for Community Partnerships teamed up for a new project dubbed "Bridging Gaps and Building Capacity." The program was designed to balance morning academics with afternoon enrichments for the students involved. On Fridays, the Netter Center led engaging field trips.
So, what do these commitments have to do with universities more generally? History helps us see their function. Cultivating them should be a priority across all disciplines. Take truth. Students need to be encouraged to develop a healthy skepticism about received wisdom and to learn the kind of independent mindedness that democracy demands of us. But in this age of disinformation and conspiracy thinking, students need also to learn what real, evidence-based knowledge consists of—in the physical and biological sciences, the social sciences, and in humanities disciplines such as my own.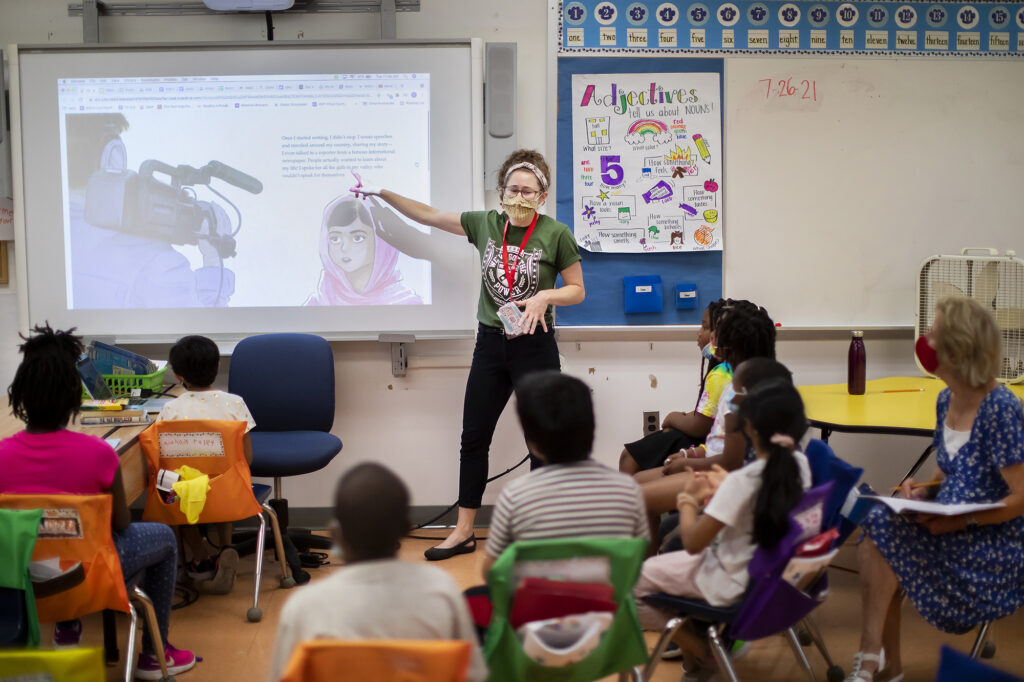 The university is a political space precisely because it is nothing like the day-to-day political sphere. It is the rare place in our society where there is a willingness to entertain odd ideas, even those profoundly outside mainstream discourse today, and where people find synergies and sympathies across time, space, and ideology that they did not think could exist.
Matthew Hartley deputy dean, professor of education, and Board of Advisors Chair of Education at Penn's Graduate School of Education (GSE); founding director of Alliance for Higher Education and Democracy (AHEAD) at GSE. 
Much of my research has focused on the civic purposes of colleges and universities. American higher education has deep civic roots. We all know of Benjamin Franklin's desire to create an institution that would instill in students the "inclination joined with the ability to serve." This same desire to uphold democracy and serve society is evident in the founding documents of our private institutions and legislative record that gave rise to our public colleges and universities.
For much of its history, higher education was seen as a public good—something that helps foster a strong economy, enriches the intellectual life of the country, and benefits everyone. In recent decades, this view has changed. State divestment in higher education has placed the financial burden on the shoulders of students and their families. Increasingly, higher education is seen as a private good—an individual investment. This shift has led to the widespread adoption of market practices (i.e. student-as-customer), altered the distribution of majors towards professional fields, and even given us the amenities wars ("our climbing wall is taller!").
In the book, "Knowledge for Social Change," Penn colleagues and I describe how many universities have sought to realize their democratic ideals. This work begins with honest reflection: Who are we serving? What kinds of educational opportunities are we providing our students? Are we engaged in collaborative work with the community, and in ways that create new knowledge and contribute towards meaningful change? Are we supporting research that connects our scholarly expertise with knowledge in the community in order to address pressing real-world problems? Are we truly living out our democratic ideals, or inadvertently replicating patterns of societal injustice?
John Dewey once said, "Democracy must begin at home, and its home is the neighborly community." By reflecting on our own practices and working with the community on pressing real-world problems, universities can become part of a longstanding effort that expands opportunity, strengthens democracy, and allows us to realize our highest ideals as an educational institution.
Lubna A. Mian, adjunct professor of law at the University of Pennsylvania Carey Law School and an expert on higher education law and policy
From a legal perspective, the continuing viability of the consideration of race in university admissions matters immensely to our democracy. Higher education undergirds democracy in its classic sense, fostering civic knowledge and voter participation, and in a deeper vein, as a conduit for individuals to have influence in institutions that matter.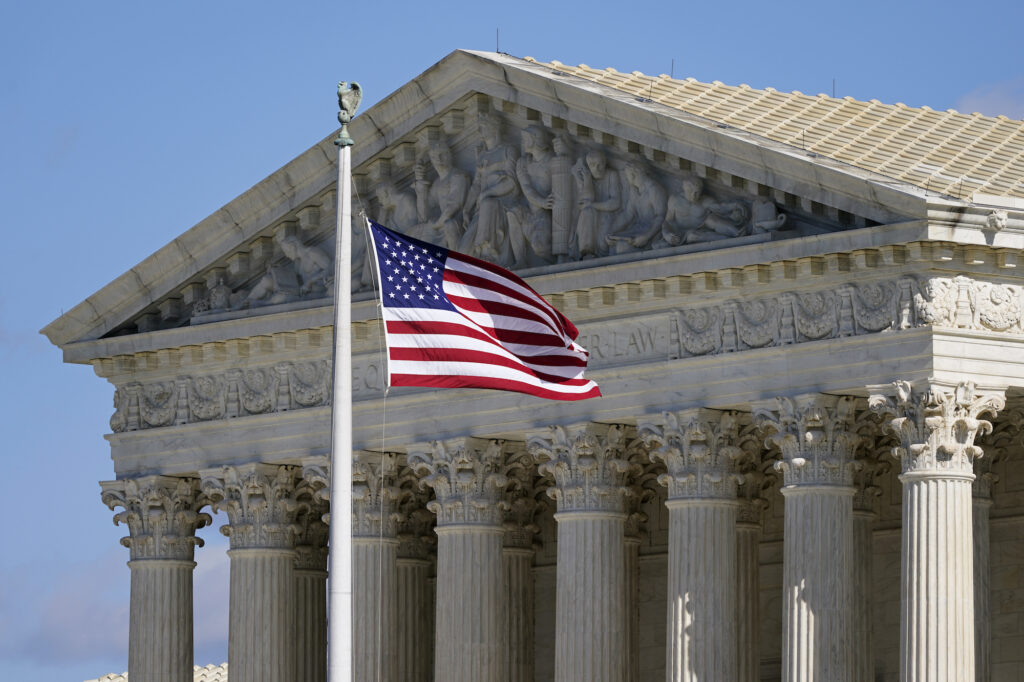 A short list of highly selective institutions in the United States—Ivies, highly selective military academies and public institutions—hold extraordinary prestige in our culture. When we talk of great universities educating global leaders, partly we are acknowledging the social capital and informal pathways to influence that education provides.
The rights of women and minorities to attend influential institutions has come at great expense—for example, decades of litigation to desegregate the Mississippi higher educational system, the lawsuit on behalf of high school women to attend Virginia Military Institute and participate in "adversative" physical training, and of course the great civil rights cases challenging the separate but equal doctrine not only in K-12 education but also in graduate and legal education. One of America's most enduring mythologies has been upward mobility and equal opportunity.
If the case next year is decided against the universities at issue (Harvard University and The University of North Carolina), it is possible that the proportion of Black, Latinx, and Native students admitted to highly selective institutions could drop in coming years, threatening decades of progress. Collectively, we need to think about the influence of alumni networks and faculty sponsorship, and the avenues to judicial and political posts and quality employment in this country. We are in a moment where inclusion is becoming a common language, and will require us to disrupt traditional avenues to success with renewed energy.
Rita Hodges, associate director of the Barbara and Edward Netter Center for Community Partnerships
A core proposition of the Netter Center is that higher education institutions are crucial to creating and sustaining democracy. We focus on building mutually transformative, democratic, place-based partnerships between Penn and its local geographic community of West Philadelphia. For the Netter Center, Academically Based Community Service (approximately 75 ABCS courses each year) and other forms of community engaged scholarship are primary means for advancing knowledge and democracy both on and off campus.
Netter programs focused on community engaged scholarship include the Provost's Graduate Academic Engagement Fellowship and the Penn Graduate Community-Engaged Research Mentorship. Another approach is University-Assisted Community Schools (currently 8 UACS in West Philadelphia), where higher education institutions work with public schools and other partners to create comprehensive neighborhood centers that educate, engage, empower and serve students, families, and community members. Penn Leads the Vote, a student-run, non-partisan program that increases voter engagement and voting while advancing Penn's role of supporting the democratic and civic engagement of Penn students, is also housed within Netter.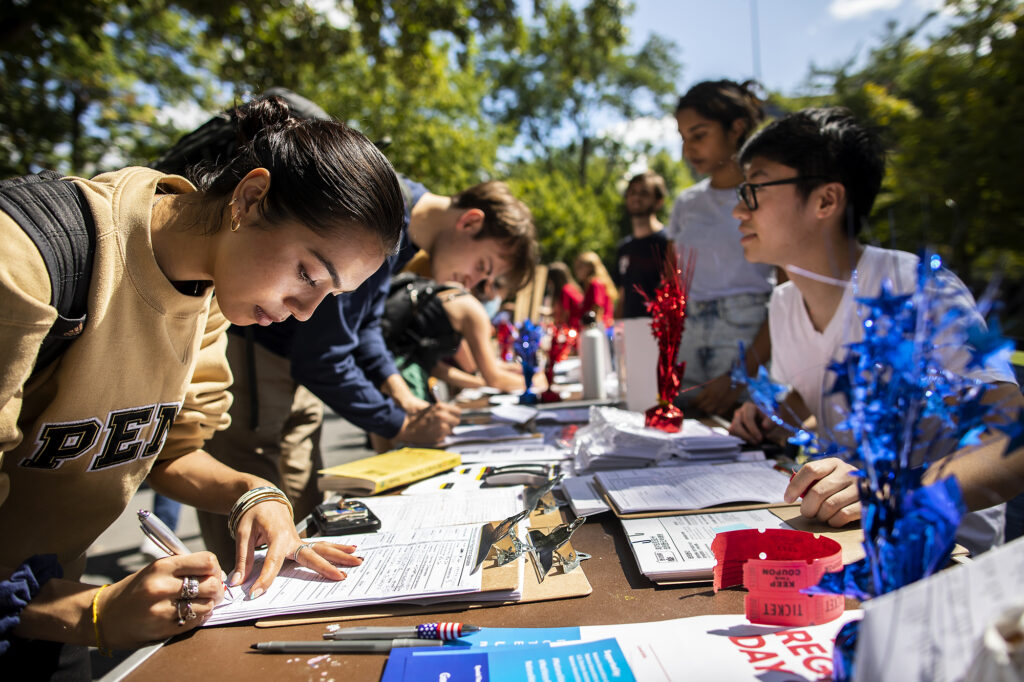 The Netter Center has helped create and develop robust regional, national, and global networks—including the Philadelphia Higher Education Network for Neighborhood Development, the University-Assisted Community Schools National Network, the Anchor Institutions Task Force, and the International Consortium for Higher Education, Civic Responsibility, and Democracy—that work to increase higher education's contribution to participatory democracy on campus, in the community, and the wider society.
Through civic and community engagement, the Netter Center helps educate students to be creative, caring, contributing democratic citizens. For us, education for citizenship should be a primary purpose of universities, particularly Benjamin Franklin's university.
Ian MacMullen, political theorist, professor of practice in the Department of Political Science in the School of Arts & Sciences and Resident Scholar in the SNF Paideia Program
Thinking deeply about democracy—its nature, requirements, and value—can sometimes seem like one of those philosophical activities whose rewards are purely intellectual, not practical. A decade ago, I suspect that's how democratic theory struck many of my students. "Quit preaching to the choir! We already know enough about democracy: what it is, that it's good. It may need to be promoted and defended in some parts of the world, but here in America it's a done deal, just needs a little fine tuning. And that work is less urgent—and, frankly, less important—than the pursuit of many other political goals."
To those who once saw democratic theory in this way—as an elaborate exercise in stating the obvious, making simple truths needlessly complex, and a distraction from more pressing political matters at home—recent evidence of democratic backsliding in America and other so-called established democracies may have been a wake-up call. Our understanding of and commitment to democratic ideals must not become "dead dogma," the fate that John Stuart Mill prophesied for all ideas that cease to be objects of critical reflection and deliberation. By keeping the conversation alive, universities play a vital role in preventing "true" democracies from becoming DINOs. Recall that communist East Germany was the "German Democratic Republic." And North Korea still is the "Democratic People's Republic of Korea."
But democratic theory is not merely a safeguard against election denial, coups, and strongman authoritarian populism. Because even at its best, America has only ever been what a true democracy looks like in the funhouse mirrors of conservatism and privilege. If there's a silver lining to our contemporary cloud—and there may not be—it is that our reduced complacency may outlive the immediate emergency. American democracy may be even sicker than usual these days, but our goal should not be limited to saving the patient. We should strive to make her healthy for the first time in her life.