The event, titled "The Criminal Justice System: Policing and Public Safety," featured panelists Yale University associate professor of Law and Sociology Monica Bell, University of Maryland Sociology professor Rashawn Ray, Penn Law senior fellow David Rudovsky, and Johns Hopkins associate professor of Political Science and Sociology Velsa Weaver. The speakers addressed systemic racism within the criminal justice system, and suggested several reforms to limit racial discrimination.
The event began with a discussion of racism and policing in the context of the United States Justice Department's renewed investigation into the police killing of George Floyd and the grand jury decision not to indict the police officers involved in the case of Daniel Prude, who died after officers held him against the pavement with a mesh spit hood over his head in March 2020.
Ray said there is a strong need to hold law enforcement officers accountable for their actions. The George Floyd Justice in Policing Act, which was reintroduced by House Democrats on Wednesday, would overhaul qualified immunity, prohibit racial profiling by law enforcement officers, and ban no-knock warrants in federal drug cases.
"The George Floyd Justice in Policing Act, which should be voted on in Congress next month, is going to be significant for addressing a lot of the gaps and concerns that people are protesting in the streets about, that we're discussing on this particular panel," Ray said. "Next month is going to be critical. There are a lot of things happening that can drastically transform law enforcement as we know it in the next 30 days."
Panelists said much of racism in policing is caused by racist structures and biases that perpetuate systemic discrimination.
In Philadelphia, Black people are three times as likely as white people to be stopped by the police, according to an ABC News investigation. In the last six years, close to 70% of pedestrians and drivers stopped by Philadelphia police were Black, even though Black people make up only 42% of the city's population.
"When you look at the data, you see the structural, the systemic cause here. It's not extremes — this is generalized policing — and that's what we've got to change," Rudovsky said. "We've got to take the police out of that mode and have them concentrating on what they really ought to be doing."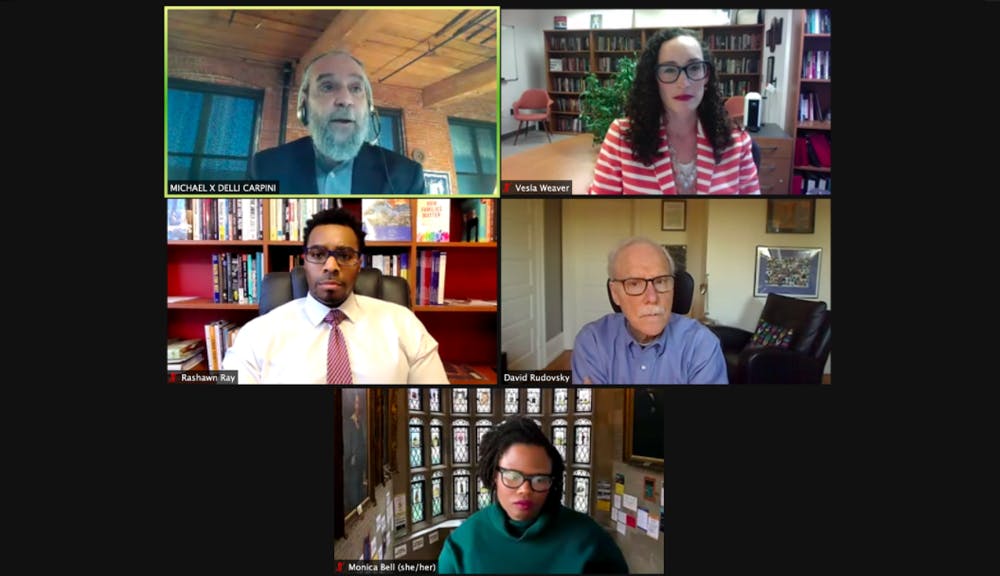 Ray discussed his work in improving police training, including reducing the ingrained cultural biases that perpetuate racism in policing.
"What we need is qualitatively different training … to help them with decisions to reduce bias instead of instilling fear and this warrior-mentality that puts them against their community," Ray said.
Bell said that education is a possible step towards transforming the culture surrounding policing.
"I think a lot of people who are participating in promoting racialized policing don't know they're doing it," Bell said. "We've constructed a culture in which white people call the police for all kinds of things."
Data showing that many 911 calls are not about something dangerous and that people are not in constant danger of violence can help educate the public about policing, Bell added.
Panelists also mentioned solutions such as community policing, improved police training, and reallocating funds from police departments to other programs related to mental health and youth empowerment.
"The majority of people who have their first stop are stopped at very early adolescence — under the age of 14," Weaver said. "I think we need to de-police youth and instead build structures of civic empowerment."
The speakers all expressed hope for positive change, especially after the Black Lives Matter movement grew during summer 2020.
"We know what the solutions are, we just need to have the political will to do it," Ray said.
Wednesday's event was the seventh of thirteen conversations on "Racism and Anti-Racism in Contemporary America." The event was hosted and co-sponsored by the SNF Paideia Program, the Office of the Vice President for Social Equity & Community, the Office of the Provost, the Andrea Mitchell Center, Civic House, and New Student Orientation and Academic Initiatives as part of the Year of Civic Engagement.